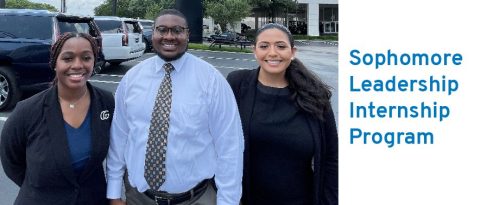 GM Financial Launches Pilot Sophomore Leadership Internship Program
This summer, GM Financial launched its first Sophomore Leadership Internship Program, an initiative aimed at fostering relationships with a diverse group of students, including students from Historically Black Colleges and Universities (HBCUs) and Hispanic Serving Institutions (HSIs). The eight-week program, which is a component of GM Financial's participation in the HBCU Partnership Challenge, seeks to promote corporate engagement, develop new career possibilities for students, and improve diversity, equity and inclusion across the auto finance industry.
Because of socioeconomic barriers and other systematic challenges, for many students the sophomore year of college is a critical point in their educational career — especially for students of color and those attending HBCUs. These challenges, coupled with financial hardship and academic struggles, can hinder many students' ability to continue their academic pursuit.  
For the inaugural program, GM Financial selected students from Prairie View A&M University and the University of Texas at Arlington. Throughout their internship, the sophomore interns shadowed team members from various functions, exploring the company's diverse job catalog and learning about the core competencies required for each. Between exploring GM Financial's various functions, the sophomore interns participated in skill-specific workshops that covered topics such as personal branding, networking and financial wellness.
While the majority of the internship was virtual, the sophomore interns spent one week on-site at a prominent Cadillac dealership, where they gained insight into the culture and intricacies of working at a dealership. Specifically, they received a holistic view of the F&I process and how it differs from a consumer's and dealer's perspective. The sophomore interns also engaged in a financial wellness roundtable with Congresswoman Sheila Jackson Lee. During the roundtable, Jackson Lee offered personal insight and advice on financial literacy. She also discussed topics such as investing, career planning, her legislative priorities and her experience in congress.
As a conclusion to their internship, the sophomore interns presented to executive leadership their thoughts around how GM Financial can become one of the most diverse, equitable and inclusive companies in the world.
"After exceeding our own expectations this inaugural year, we are looking forward to growing the program with more university partnerships, which will ultimately bring more students," said Shunda Robinson, Global Vice President of Diversity, Equity and Inclusion for GM Financial. "Listening to their positive feedback tells me that we got something right! We'll continue to build on this momentum going into next year."