Commercial Vehicle Lease-End Options
Ready to upgrade your company car or truck? We make it easy to finance your commercial vehicles.

You Have Options: Choose a new lease, purchase your vehicle or return it
When your commercial lease ends, you have the freedom to choose what works best for your business. You can buy your vehicle, turn it in or lease a new car or truck.   
Need to upgrade your fleet?
New GM models offer the latest in technology, reliability, safety and economy.
Purchase your leased vehicle
Is your car or truck still working for you? You can purchase it at any point in your commercial vehicle lease.**
Your dealer has the details.
Easy turn-in
Your GM dealership can help if you want to turn in your commercial vehicle.***
Download this Odometer Statement to take with you when you turn in the vehicle.
Consult an expert
Have your business needs changed? We can help customize a new lease or purchase and upfit a new vehicle to your specifications.
**Your GM Financial lease agreement states that you have the option to buy your leased vehicle from a GM Financial designated party. We do not currently process lease purchase requests through non-GM dealerships.
***As stated in your lease contract, you may be charged a disposition fee, which prepares your vehicle for resale. This may be waived if you buy or lease a new GM vehicle or exercise the purchase option of the lease agreement.
The Right Lease® Customers: Get Inspected
Commercial customers with The Right Lease® will need an inspection within 120 days of lease end. You'll receive a detailed report on wear and use, along with how much you might owe.
A pre-return inspection can be conveniently scheduled at your home, office or the dealership.
Want to discuss your options or need other questions answered before scheduling your inspection? Not sure what type of lease you have? Commercial customers can call us at 1-855-501-5563 or text BIZ to 53721 (message and data rates may apply).
No Inspection Needed on The Right TRAC® lease
The Right TRAC® lease customers won't need an inspection. Contact your GM dealership to learn more about next steps and check out the latest GM models.* 
The Right TRAC® lease customers can call us at 1-855-501-5563 or text BIZ to 53721 (message and data rates may apply).
Mon-Fri 7 a.m.–6 p.m. CT
Closed Sat and Sun
*Lease-end details differ between The Right TRAC® and The Right Lease®.
Identifying excess wear on your Right Lease vehicle
Exterior

Hail damage or punctures

1 dent or 2 scratches (more than 4")

Cracked glass or spidered cracks
Interior

Permanent stains

Upholstery holes larger than ⅛"

Tears larger than ½"
Commercial Lease-End Resources
Brand Resources
We've provided these resources to help answer your questions during the lease-end experience.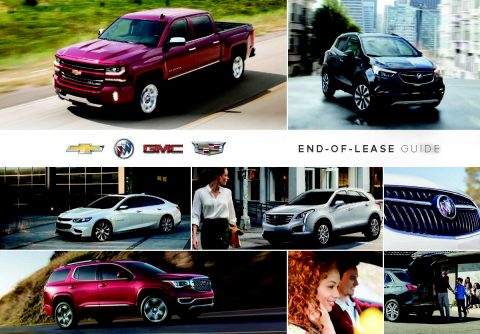 Your Dealership
The GM dealership where you leased your commercial vehicle can help you lease or buy a new GM vehicle. They can also help you purchase or return your current commercial vehicle. And they've got all the details you need about how to put The Right TRAC® lease or The Right Lease® to work for your business.
Contact your dealership for inspections, repairs and final steps in the lease-end process.
[Your Dealer Name]
[Address Line ]
[City, State, Zip]
[Contact Name]
Get Answers
Visit our FAQ page
Log in to MyAccount to send a message, text* BIZ to 53721, or call us at  1-855-501-5563. 
*There is no charge from GM Financial, but message and data rates may apply.
Mon-Fri 7 a.m.–6 p.m. CT
Closed Sat and Sun