We're glad you're here.
As a GM Financial customer, you can customize your experience — from how you pay to the ways you contact us.
And this page is just the beginning. You can find even more information on our FAQ page.
We'll walk you through what to expect as a customer, help you set up a profile to manage your account and provide you with links and information that will help you find the answers you need, when you need them.
Why should I register for MyAccount?
It's your go-to place for all things related to your account with us. Once you have your account number, you're ready to set up your profile.
You can enroll in paperless billing, sign up and manage Auto Pay, message with our Customer Advocates and make payments all from one place. You can also manage your notification preferences so they're tailored to you. Learn more about the benefits.
Even better, it's available online or through the GM Financial Mobile app for Android and iOS.
Where Can I Find My GM Financial Account Number?
Your account number can be found on your monthly billing statement or your welcome letter. New customers typically receive their welcome letter a couple of weeks after purchasing or leasing their vehicle.
Things To Know
Good news! We start creating your GM Financial account as soon as we complete the financing process with your dealer and you are assigned a GM Financial account number.
To keep things moving, please provide any additional information your dealer asks for when you sign.
Have questions? Contact your dealership or text WELCOME to 53721 to get answers (message and data rates may apply).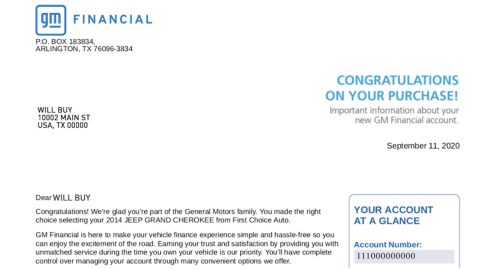 MyAccount Resource Library
How Do I Receive Paperless Statements?
Going paperless is easy, and you can see your statements online at any time. Simply log in to MyAccount or the GM Financial Mobile app to update your profile settings. This video will walk you through the steps.
Can I Set Up Auto Pay Online?
Setting up Auto Pay for your account is simple! Just sign in to MyAccount or the mobile app and enroll to have your payments withdrawn automatically. Check out this video for more.
How Do I Schedule Service?
Scheduling service at your preferred dealership is a click away. Just head to MyAccount either online or in your mobile app and find the closest certified service dealer location to you. This video will show you how.

How Can I Contact You If I have Questions?
You have several options, but MyAccount is the quickest way.
If you're logged in, we immediately know who you are and can answer your questions right away. Simply message us online or through the GM Financial Mobile app.
You can also text INFO to 53721 to meet Nanci, your virtual assistant, text with an agent, or call us at 1-800-284-2271 (message and data rates may apply).
Watch this video to learn how to message our team.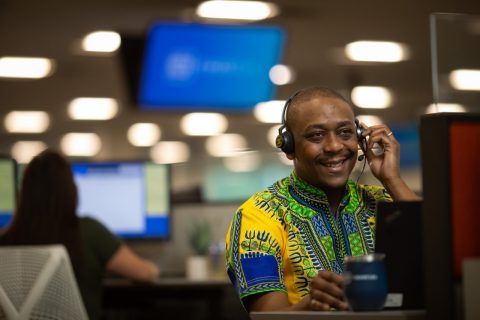 ---
Can I Get Text Alerts?
Yes. You can opt in to text alerts and receive payment reminders and past-due alerts.
Watch this video to learn more about your notification settings and alerts.
Message and data rates may apply.
Where Can I Learn About Financial Wellness?
KEYS® Online
A source of free, interactive courses that cover a variety of topics, including homeownership and retirement.
Financial Articles
We help answer some of the most commonly asked questions, like "How much car can I afford?" and "When is the best time to buy a car?"