Prepare for Your Next Steps
To get started, familiarize yourself with your contract and brush up on your lease terms and potential charges. Request your lease purchase price by logging in to MyAccount; you can use the reference on the right.
Hint: Refer to this Lease-End FAQ for common questions related to options and charges associated with returning or buying your lease.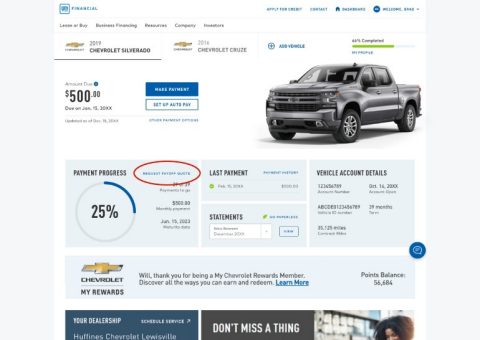 Hint: Request your lease purchase price in the bottom right of your MyAccount dashboard
Your Options
No matter your decision, here is how you can keep moving forward.
Purchase Your Lease Vehicle
Talk to your dealer about your options.
Pre-Return Inspection
A Pre-Return Inspection is optional, but beneficial to get ahead of any repairs that may need to be addressed prior to returning the vehicle. Make getting a new vehicle at the end of your lease as smooth as possible by scheduling a complimentary pre-return inspection. Here are three benefits:
Complimentary Service
GM Financial uses a third-party service, AutoVIN, to provide pre-return inspections. It's free to you and can potentially save you money since you'll get a condition report of your vehicle prior to lease end.
Peace of Mind
The inspection can help identify excess miles and any excess wear you could be charged for at the end of your lease. From there, you can decide to either make the repairs or budget for additional charges when you turn in your vehicle.
Convenient Scheduling
Your pre-return inspection can take place at home, at work or at your dealership. Have your VIN and GM Financial account number nearby and schedule your appointment at AutoVINLive.com. Have questions? Message us in MyAccount.
---
Inspection Guidelines
Follow the excess wear guidelines below to get ahead of any repairs that may need to be addressed prior to returning the vehicle.
Pro Tip: Have your lease-end guideline tool located in your lease-end brochure handy for self-inspection.
Before Turning in Your Vehicle
Download the checklist below to ensure you have everything you need at the time of turn-in. Ask the dealer to record the mileage.
Convenient Turn-In
Upon your vehicle return, you'll get a check-in receipt and odometer statement. Learn more around our new check-in process.
After Returning Your Vehicle
Lease-End Liability Invoice
You should expect to receive your lease-end liability invoice up to 30-45 days after your vehicle has been returned.
Flexible Payment Options
Find the best payment option that works for you, or use My GM Rewards points to pay your bill by logging in to MyAccount and click "Pay with Points".
Waived Disposition Fee
Your disposition fee could be waived if you lease or buy a new GM vehicle at lease end. Explore our current offers to find your next ride.
Find Your Answers
Use these resources to help guide your lease-end experience and get answers to your questions.
Get Answers
Have questions about your lease end or final bill? Get answers from our Customer Experience team.
Log in to MyAccount or the GM Financial Mobile app to send a message to our Customer Experience team.
View other contact options