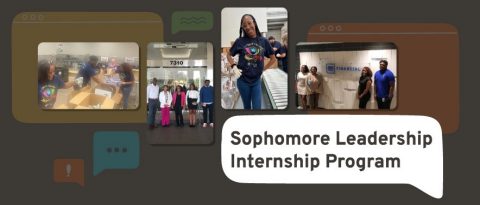 Voices of SLIP Part II: Sophomore Leadership Internship Program Participants Share Their Summer Experiences
This summer, GM Financial welcomed a third cohort of students to the Sophomore Leadership Internship Program (SLIP), a component of the company's participation in the Historically Black Colleges and Universities (HBCUs) Partnership Challenge. As part of their internship, the SLIP participants took part in a series of interviews. In the first part of the series, we met the SLIP participants and learned about their experiences navigating this transitional period in their lives. In this article, we will learn how their participation in the program impacted them personally and professionally.
Was there anything you learned about GM Financial or its team members that stood out while shadowing a specific department or leader?
That it doesn't matter who you are or what your title is, everyone's opinions are valued," said Chamari.
Chamari and the other SLIP participants enjoyed having the opportunity to communicate and collaborate with team members across the company. They appreciated the opportunity to speak with and listen to Dan Berce, GM Financial President and Chief Executive Officer.
"It says a lot about the company that the CEO took time out of his day to speak to interns," said Logan.
The SLIP participants mentioned that GM Financial truly values diversity of opinion and perspective, no matter someone's age, background or expertise. They valued that all team members were treated with the same respect and held to the same standard. They also mentioned GM Financial's commitment to diversity, equity and inclusion (DE&I). The company's inclusive environment was very apparent to them, and the participants all agreed that it is something that will influence them in their future endeavors.
What impact has this experience had on you?
"It's given me so much confidence in myself and my abilities," said Chamari. Chamari mentioned that this experience encouraged her to become more of a leader. Inspired by the culture and amazing leaders at GM Financial, she hopes to get more involved and become the leader of a new organization when she returns to her university in the fall.
"Nothing can top this experience," said Chase. He is excited to apply his real-world experiences to his studies when he returns to his university. He appreciated getting to learn outside of the classroom. Chase is looking forward to using what he learned at GM Financial to finish his degree and vowed to continue pursuing opportunities outside his comfort zone.
"This internship means so much to me and I'm grateful for the opportunities and learning experiences I've had this summer," said Ariel. As a first-generation college student, Ariel said, the program highlighted the importance of hard work and dedication. She also said that her experiences this summer helped her establish direction for her future career and helped strengthen her leadership skills.
"So many GM Financial team members demonstrate what it means to be a good leader, and getting to learn from them has been amazing," said Logan. She described how valuable it has been to witness what it takes to be a great leader and said that she is appreciative of those who have mentored her throughout the summer.
If you could give one piece of advice to your younger self, what would it be?
Chamari: "Sometimes you have to go through a bunch of nos to get a yes."
Logan: "Don't be afraid to put yourself out there."
Chase: "Confidence is REALLY important. If you don't believe in yourself, others won't either."
Ariel: "You can't have a testimony without a test."
We are grateful for the contributions of our SLIP participants this summer and the unique perspectives they bring. As the program continues to grow, GM Financial is excited to continue to support the HBCU Partnership Challenge and welcome new perspectives into the company.