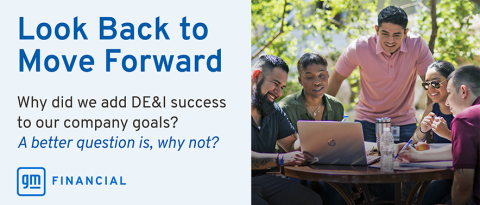 Look Back to Move Forward: DE&I at GM Financial
As we approach the end of the year, it's inevitable that each of us will take time to reflect on the things that impacted our lives, both personally and professionally. Within GM Financial, the Diversity, Equity and Inclusion (DE&I) team is doing the same.
GM Financial created its Diversity and Inclusion office more than seven years ago, solidifying a commitment to cultivating a diverse and inclusive culture. We made it an imperative so we could continuously build on the inclusive culture that was already part of our foundation. In 2020, we added "Equity" to this journey, sharpening our focus to create paths to individual success when everyone has the tools they need to excel and achieve. 
With more than 9,000 team members across the world and counting, GM Financial is a fast-growing organization. And every day, these team members bring to the workplace the unique perspectives and experiences that have shaped them.  The DE&I office was created to ensure all voices are heard, all perspectives are included, and teams are reflective of the customers we serve. In doing so, GM Financial, alongside GM, hopes to become one of the world's most inclusive companies.
The founding of the DE&I team inspired other programs and initiatives to foster employee engagement, promote professional development and encourage discussion. Along with focused strategies, the creation and growth of these programs and initiatives are part of the transparency and accountability we have challenged ourselves to embody moving forward.
A huge focus is on our 45/35 by 2025 goal. Simply put, we are aiming to have 45% women and 35% professionals of color in senior leadership roles by 2025. To achieve it, we are taking a strategic deep dive into the challenges — recruiting, development, team member preparation —  that could be standing in the way of our access to talented candidates. We're also examining how we connect with other organizations that work to enhance the presence of women and professionals of color in the workplace. And we are doing deeper levels of self-examination on how we can best make ourselves attractive to diverse talent.
This is an ambitious diversity target, and our times call for it as we aim to create a leadership team that reflects our global workforce, the world we work in, the customers we serve and the communities we call home.
This year, we also introduced a DE&I core competency as part of performance review evaluations. This challenges each of us to personally live our culture and contribute to GM Financial's DE&I goals. Our Generations Roundtable video series debuted in November 2022 as well, featuring five team members of different generations having open and supportive conversations on topics from mental health and career development to overcoming generational stereotypes and how to best collaborate with peers from different generations.
We mention accountability a lot in our DE&I discussion because it's so important. By being open about our DE&I mission and goals and sharing them with the world, we have issued a self-challenge to achieve them. We will measure our progress, acknowledge where we must do better and celebrate the wins that come.
GM Financial has accomplished a lot in the past seven years when it comes to DE&I, yet there's still work to be done. The goal is to challenge ourselves year over year as we seek, along with GM, to become the most inclusive company in the world.