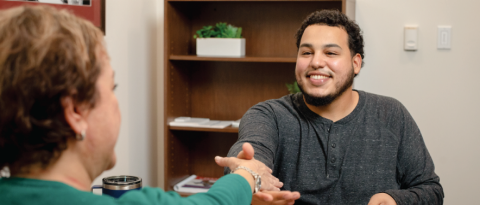 Recruiting the Right Way: How to Improve Diversity, Equity and Inclusion in Hiring Practices
The most innovative and successful companies employ a diverse workforce. Diversity not only brings together a range of ideas but fosters a unique environment where team members can contribute their different perspectives. Diversity can also drive innovation and collaboration.
A company committed to diversity spends its energy recruiting the right way. "It really starts with raising awareness that you can find talent in different places," says Dana Smathers, GM Financial Vice President of Global Talent Acquisition. Dana says broadening the talent funnel is an important part of hiring. A different approach can help recruiters find different types of candidates.

Dana and the GM Financial recruiting team have identified six important keys to diverse hiring practices.

Show your diversity in action

You can say your company is inclusive, but you'll need to demonstrate that fact. Does your hiring committee reflect the diverse culture you say you have? Do your company's causes show a commitment to inclusivity? Do your employees value your inclusion practices?

Dana says they work with their employee experience team to ensure that "inclusion" remains a priority once an employee joins the team. In other words, diversity, equity and inclusion isn't just an idea, it's a practice.

"We want individuals to know this is more than just a catchy phrase," she says. "We believe in belonging. We want you to belong. We want you to discover the best you can be here and really thrive. That starts in the recruitment process, but it's built across the employee life cycle."
Strip away barriers within the company

You may not even be aware bias exists in your hiring process. Make sure it doesn't trip you up.

Ignacio Estrella, GM Financial Senior Manager for Talent Acquisition, says simple changes can have a lasting impact. He advises recruiters to check for non-inclusive language in their company's policies and job postings. Simple wording changes can ensure "everyone who reads it feels included," says Ignacio. For instance, when recruiting globally, remove U.S.-centric jargon, figures of speech and acronyms. That way, international candidates will feel more comfortable applying

Make DE&I a priority from the outset. When a position opens, recruiting diverse candidates should be part of the initial strategy discussion. "It's really about questioning unconscious bias," Dana says. Having conversations about diversity from the start and including the hiring manager gives DE&I more weight and focus.
Investigate how you advertise open positions

Where and how you advertise open positions might be limiting your ability to attract a range of employees. "We worked on very simple stuff that has a lot of significance, such as posting wording," Ignacio says.

Make sure job descriptions are well written and target the type of candidates you hope to attract. Some specific tips for inclusivity include:

Use neutral language and disclaimers.
Welcome all groups to apply.
Remove any unconscious bias for traditional backgrounds or experiences
Encourage all to apply, regardless of accommodation needs, by including an accommodations statement. 

Broaden your search in more ways than one

Think differently about where you search for talent. Rewriting job descriptions won't matter if you don't get them to the right people. Find the places you'd like to recruit from and advertise there. Think beyond credentials and focus on desired outcomes instead.

"If you've always hired a certain way," Dana says, "let's look at areas that have similar skills and where we might find those individuals." She encourages recruiters to look outside their field and recruit from organizations that require the skills you seek.

Sometimes attracting diverse talent requires changing the way the position functions. For example, offering hybrid working opportunities can encourage diversity by breaking down the barriers of location-based hiring. If a candidate can work remotely — and not have to move from their community — they'll be more likely to apply and join your company. Flexible work possibilities can open your company to new worlds.
 Create a new interview process

Start by creating a diverse interview panel that shows your company's diversity in action. And consider using a virtual interview process, which can create an avenue into new communities.

"Implementing technologies for interviews really helped us widen the funnel," Dana says. "One of the main reasons we wanted to have virtual interviewing is we wanted to be able to see diverse talent sooner in the hiring process."

The virtual step removes barriers of travel and geography and allows the company to cast a wider net for talent. Candidates can also meet more company leaders through virtual interviews, giving them a better feel for how the company operates.

"It's important to tap into diverse talent quickly and be able to create an experience for them to meet hiring managers," Dana says. 
Work with external groups and universities

Working with universities can strengthen your access to emerging talent. Ignacio has connected with universities all around the globe in the different countries where GM Financial has office locations. He says those conversations help guide how GM Financial can work more effectively with schools.

Show your company's dedication to DE&I by working with diverse organizations and gaining endorsements. Ignacio says third-party certifications have strict requirements that include providing company policies along with real-life examples of how your company lives diversity. For example, he says a recent certification from the Human Rights Campaign in Mexico for the LGBT community asked for evidence from GM Financial of community investment activities with photos and testimonials.

"This type of certification requires transparency, evidence and a commitment," he says. "It's a good way to show that the company is supporting [diverse] communities." And it also assures prospective employees that your company puts its DE&I policies into practice.