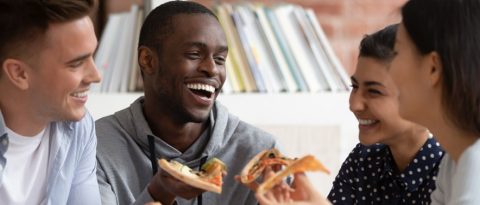 3 Ways to Expand Your DE&I Boundaries
"Becoming more diverse, more inclusive and equitable starts with really understanding yourself and your implicit biases," says Mike Urrutia, EVP Dealer Services at GM Financial.
As we align with our parent company's aspiration to become the most inclusive company in the world, we're committed to ensuring lasting change, recognizing our organization is made up of individual, diverse people. Each person is responsible and accountable for promoting the values of diversity, equity and inclusion (DE&I). 
Implicit bias, or unconscious bias, happens when a person has thoughts, feelings or attitudes toward people without their conscious knowledge.
"Everyone has biases. We can't eliminate it; that's impossible. What we can do, though, is identify and understand our own biases, so that we can become more inclusive and equitable," Mike states.
Let's talk about how to escape your comfort zone and embrace DE&I.
Getting out of your comfort zone
It's easy to avoid — intentionally or unintentionally — difficult situations or conversations. Growth happens when you push your boundaries and thoughtfully work toward being more curious and inclusive.  
"It's about challenging yourself to get out of your comfort zone and gain perspective from others," Mike says.
He offers three ways someone can challenge themselves to become more diverse and inclusive.
Education

"You can't begin to understand different things until you're educated and aware of the issue," Mike shares. Doing things as simple as reading from diverse authors on topics with which you're unfamiliar or articles that offer a different perspective is a great place to start in becoming educated.

Discussion

"Do news stories at night bother you? Does a film or movie on a controversial topic make you uncomfortable?" Mike asks.  "If they do, you have to be willing to have tough conversations about them." It's important to have these conversations with yourself, an exercise in self-reflection, about what's at the root of the issue — the "why" of what makes you uncomfortable about such topics. You should be having these discussions with family, but also find other people in your life with whom you can appropriately address these topics.

Experience

"Getting out of your comfort zone is important, and part of doing that is experiencing something different," he says. According to Mike, experiences don't have to be grand gestures either; it could be things like traveling, trying different food at restaurants from other cultures or going to different cultural events. You don't have to go international either; there are likely plenty of opportunities in your own town to have diverse experiences.
Any or all of these suggestions may help you be more open to diversity of thought and inclusion of others. And accountability from everyone can help build a culture that supports it.
"It's great to be mindful of these things, but if you're really looking to become more diverse, inclusive and equitable, it takes accountability," Mike says. "You have to have people around you that understand your goals and intentions around what you're trying to accomplish."
To learn more about GM Financial's goals and how we're holding ourselves accountable, visit our DE&I page or download our DE&I report.