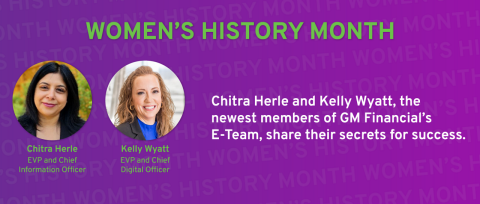 Chitra Herle and Kelly Wyatt Share Leadership Lessons from the C-Suite
In honor of Women's History Month, GM Financial is celebrating Chitra Herle and Kelly Wyatt, who both recently joined the company's Executive Team.
As the captive for General Motors, GM Financial exists at the intersection of two historically male-dominated industries: automotive and finance. But the company is also an industry leader in information technology (IT) and digital strategy — two more fields that are often led by men.

With the addition of Chitra and Kelly — our foremost leaders in IT and digital — the number of women on the E-Team doubled from two to four. The increase is a measure of the company's progress in creating a more inclusive, gender-equal workplace and a notable step toward its goal of 45% women and 35% professionals of color in leadership roles by 2025.

Chitra and Kelly recently discussed their career journeys and shared a few of the leadership lessons, professional philosophies and personal insights that have empowered them to succeed and shaped how they lead others.

Chitra Herle, who joined GM Financial in January, is Executive Vice President and Chief Information Officer. She brings more than 20 years of IT and finance industry experience to her role as head of our global IT team.

"As I look back on my career so far, these fundamentals emerged as some of the most important to my development as a leader," Chitra said.

Take accountability and have a sense of ownership.
Never compromise on integrity.
Stay open to change and pursue new opportunities.
Build a strong and diverse network of mentors and peers.
Allow intellectual humility to fuel continuous learning. In other words, it's OK not to know something; you can always learn.
"My advice to women in the industry: Be confident, silence that little voice of self-doubt and always have a growth mindset," she said.

Kelly Wyatt was promoted to Executive Vice President and Chief Digital Officer in November after 21 years in both business and technical roles within GM Financial. She is responsible for building the business's digital structure and strategy and championing a digital mindset.

"I'd tell emerging leaders, 'You're in charge of your career,'" Kelly said. "Professional women have to be their own biggest advocates." Some of her other favorite pieces of advice?

Pursuing a new role is scary and challenging. Do it anyway.
Seek out stretch assignments and opportunities that broaden your horizons.
Cross-functional knowledge is essential. Dig in and learn as much as you can.
Find allies who push you to be better, and build lasting partnerships.
Work hard and take risks. The worst thing someone can tell you is "No."