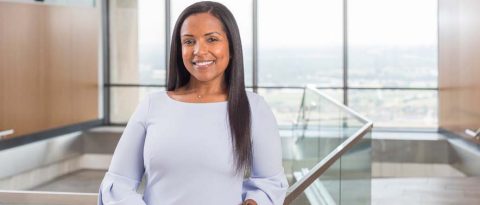 International Women's Day, celebrated annually on March 8, commemorates the cultural, political and socioeconomic achievements of women. It's an opportunity to celebrate gender equality, while also raising awareness against bias and moving toward a world that's more diverse, equitable and inclusive.
When I started writing this article, I was overcome with a variety of emotions. First, I was nervous. After all, this is a very important topic to cover, and I knew I needed to do it justice. But most of all, I was excited. How lucky was I to be able to support and share the stories of some amazing women from GM Financial?
To begin, GM Financial has worked hard to cultivate a sense of equity and diversity. The company started the Women's Inspiration Network (WIN), which helps to nurture a fair and balanced work environment with equal opportunity and visibility. WIN brings people together for roundtable discussions, workshops and more to provide a safe space for conversation around gender equity.
In a recent WIN meeting, Adrian Terry, Vice President of IT Product and Portfolio Management at GM Financial, asked a very thoughtful question: "What can male leaders do to support our women leaders right now?"
Supporting the women around you
When I asked Adrian what inspired his question, he said it stemmed from "a limited presence that I routinely see on two fronts. First, the limited presence of men attending women-focused events. And second, the limited presence of women that I see participating in strategic planning activities, such as establishing priorities and setting direction."
He added that when the WIN program launched in North America, there was an average of six men who regularly attended the meetings, out of the 50 to 100 regular attendees. During the most recent WIN meeting in January 2022, there were 208 attendees, including 17 men.
Adrian's advice is for these men to find other like-minded individuals and continue to support meetings and develop initiatives that spotlight women.
But action and change aren't always grand gestures; they're small steps taken each day. For Adrian, he believes that men can perform the following steps to create a better support system for women leaders:
Invite women to the table.
Listen to them and understand their viewpoints.
If they are silent in meetings, swing the microphone their way so their voice can be heard.
And WHEN she provides a powerful idea worthy of a mic drop, recognize her for it in the meeting in front of others (don't do it quietly).
Women equal success
While Adrian's poignant question is inspiring, and his commitment to supporting women is incredibly valuable (he even sent me five ways he supports women leaders), this article is about women. Afterall, as Adrian told me, "Women are a key ingredient to our success."
Therefore, I asked women leaders throughout GM Financial how their male leaders, and leaders around the world, can best support women. Here are their answers.
Erica Robinson
Senior Project Manager, Project Management Office for GM Financial
This is such an important consideration because we, as women, welcome and need allyship, mentorship and sponsorship from men. Male leaders can help break the glass ceiling/glass cliff, eliminate any pay disparities and allow women a seat at the table for conversation and collaboration. When you think of diversity, equity and inclusion, one thinks of ALL. That is the beauty of the world we live in. Being inclusive matters!
Ways male leaders can support women leaders:
Embrace and support organizations such as our WIN community. Attend meetings and/or join a committee.
Support DE&I efforts like attending events across the organization.
Be present among women.
Ensure gender equity does not falter.
Help women empower women and encourage women to speak up.
Actively recruit and promote women employees.
Encourage a women-friendly culture.
Help achieve GM Financial's mission of women making up 45% of the company's leadership positions or senior leaders.
Support working moms.
Mackenzie Shaw
AVP Strategic Talent Capability, Human Resources for GM Financial
I always knew I wanted to follow in my father's footsteps with a degree in finance and work in the corporate world. I attended the University of Nebraska – Lincoln for my undergraduate degree, and I'll never forget one of my sorority sisters doubting the ability of a female to make it to an executive level in a 'man's world' in business. 
Breaking the stereotypes of women in the workplace being able to do it all — work, manage a team, manage a household, care for a spouse, parents, etc. — is so important. I tell my daughter all the time that girls can do anything boys can and don't let anyone tell you otherwise. 
The pressure I put on myself to succeed in all things is huge, but not the fault of anyone but me. It's a tough balance some days, so I think for men to recognize the role women play in and outside the office is important.
Ways male leaders can support women leaders:
It's so important for leaders to get to know their team members. Build a relationship of trust and understanding; empathize and encourage all team members alike. 


Connie Coffey
EVP Corporate Controller and Chief Accounting Officer, Finance for GM Financial
It's very important for men to support women in the workplace. If there isn't male support, then women must battle microaggressions on their own. This can lead to isolation, stress and exhaustion, and quite honestly, could lead to disillusionment and women leaving the workplace.
Ways male leaders can support women leaders:
Become a sponsor of a woman in the workplace. Be a sounding board on her career aspirations and goals, then support her to others in the organization.
Respect family time and family obligations.
Set an example. If you're leaving early to pick up your children or go to your child's band concert, don't slip out, advertise it! Make it OK to leave to support family events.
Be a champion for women's equality in the workplace and fight inequity when you see it. And support gender diversity in meetings.
Lori Tutt
AVP Content Marketing, Marketing and Communications for GM Financial 
I have a book that my grandparents gave me on my third birthday that's called, "What Girls Can Be." These are the jobs highlighted in this children's book: nurse, stewardess, ballerina, candy shop owner, model, TV/movie star, secretary, artist, teacher, singer, dress designer, bride and the final two pages read, "I may even be a housewife some day when I am grown. And I'd love to be a mother with some children of my own." 
That's it! I remember as a child not really relating to any of these options. Considering this now, the bias is clear. And I'm so happy I was born into the generation AFTER the one that wrote, published, marketed and distributed this book.
As a tomboy growing up, I was always one of the guys. And I guess I never doubted that I could be anything I put my mind to. My talent, desire to learn and hard work would all help me land whatever job I wanted. Early in my career, I found that to be true. But as I moved into management, I became more aware of gender inequity. That's when I realized how men were being paid more (sometimes more than the manager) to do the same job I had been doing longer.
Ways male leaders can support women leaders:
Advocate for pay equity.
Bring awareness to unfair hiring practices.
Pay attention to gender bias.
Be brave enough to see and admire the different perspectives women in leadership can add to your organization.
Diana Mazorra
VP of the Project Management Office for GM Financial
Male leaders offering better support to their women colleagues will benefit the economic results of the company. Many studies have shown how the earnings before taxes (EBT) are 20-30% higher in companies with more diverse leadership, including ensuring equal gender participation.
It's also the right thing to do. As a society, we are evolving toward the full recognition of our differences and the value of building from those differences. And as a company, we have the social responsibility to embrace it altogether.
Most importantly, all the leaders at an organization must be committed to developing talent and nurturing the personal and professional growth of their teams. That commitment can be fulfilled with self-awareness of our biases, education on what barriers are most frequently faced by women and how each person can help overcome those barriers. For example, acknowledging that tasks such as meeting minutes or holiday celebrations always fall on the women in the group, or being attentive of "mansplaining" and recognizing women leader's voices are heard.
Ways male leaders can support women leaders:
Take action!
Be ready to call out any gender bias, either in your own behavior or others. We are all learning, and it's OK to have a conversation about behaviors that need to change.
Ask questions and avoid making assumptions on behalf of a woman (e.g., Does she want more responsibilities? Is she interested in different roles?).
Be a sponsor of talented women. It's common that women must prove themselves more than their male colleagues, so the bar is higher. So, level the bar! Invest and bet on the potential of women in the same way we do it with men.
Be flexible and trust. We still rely heavily on women to take care of the house, children, elderly parents, etc. Therefore, some women might require additional flexibility with their schedules. Accepting that also means trusting that she will deliver and rise with the challenge.
GM Financial strives to embrace an inclusive culture that honors and respects team members. As mentioned earlier in the article, the company has a goal of 45/35 by 2025, which means 45% women and 35%  professionals of color in senior leadership positions by 2025. It's time to #BreakTheBias.