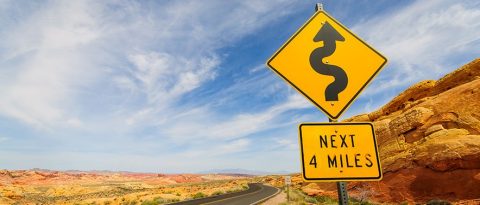 Quiz: Do You Know Your Road Signs?
Traveling the highways and byways can be an adventure. But are you familiar with the road signs designed to keep you safe? What's the difference between a red and a yellow sign? What lane are you supposed to be in? Tally up your A, B and C answer choices below and follow the signs to the results page to see how you did.
What does the following sign mean?



a. Centaurs ahead. That grade school module on Greek mythology is about to come in handy.
b. There may be horseback riders ahead. Be alert and share the road.
c. Nonmotorized vehicles only. You must walk or ride a bicycle or animal through this area.


What do red road signs typically indicate?



a. Red signs are suggestions to follow when you feel like it.
b. They indicate the most important advisory information on the road.
c. Red is almost never good, so you must be doing something wrong.


What kind of slide is this road sign warning about?



a. There's a water park ahead, so watch for kids.
b. There may be rocks falling from a mountain.
c. There is a large curve in the road ahead. You may slip if you travel too fast.


Does this sign mean there is a raging bull ahead?



a. No, but that sure would be a sight to see.
b. No, you're in a construction zone, and a flagger is directing traffic ahead.
c. No, this means there may be hitchhikers ahead.


Driving in the mountains is serious business, especially for drivers with trailers! What does this road sign indicate?



a. There's an 8% chance you'll see a truck parked on a ramp.
b. The road ahead is sloped at an 8% decline; trucks and trailers should use a low gear to descend.
c. Your vehicle may gradually pick up speed by 8% while going down the mountain.


Green always means go, right? What does this sign mean?



a. Yes, green absolutely means go.
b. When the light is green, you may proceed if traffic is clear and it is safe to go.
c. Avoid going left. Reroute so you only ever make right turns.


What does this sign mean?



a. It's a reminder that parentheses always come first in the mathematical order of operations.
b. It's warning that the bridge ahead is narrower than the road.
c. The hourglass shape indicates there is likely a slowdown ahead and you'll arrive at your destination late.


What do green and blue signs typically indicate?



a. They communicate if you're on an interstate highway or a local road.
b. These colors are used for guide signs.
c. They tell you if you're traveling over land or a body of water.


What is the real meaning of the sign that looks like snakes are following you?



a. The road ahead is curvy; reduce speed.
b. The road ahead is slippery when wet.
c. Object on road ahead; be prepared to swerve to avoid dangers.


What does this sign indicate?



a. Gazelles may cross ahead. Be cautious and on the lookout for lions.
b. Deer cross the road throughout this area; be alert.
c. Descendants of the extinct unicorn live nearby. Slow down to avoid hitting one.


What do yellow and orange signs typically indicate?



a. These signs have bright colors, so you should pay more attention to them than any other signs on the road.
b. These colors signify general warnings and temporary hazards.
c. These signs communicate a slowdown ahead. Drivers should take a detour to find a faster route.


What does an orange sign on the back of a vehicle mean?



a. Yield to slower vehicles.
b. Slow-moving vehicle doesn't travel over 35 mph.
c. This is a construction vehicle. You are in a work zone.
Merge over to the results page to see how you fared and learn about these signs!
Want more fun quizzes? See what kind of driver you are and if we can predict how you'll spend your tax refund.