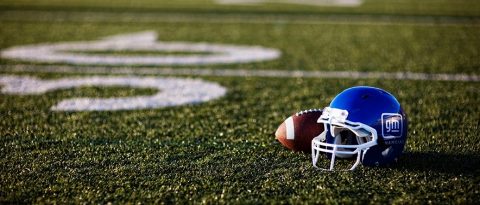 GM Vehicles Take the Field
If you're like me, you love cars, trucks and football. Combining those three things, I imagined what positions some of my favorite GM vehicles might play if they were drafted to my football team. Who would be the star quarterback? What about the top receiver?
Well, huddle up! To help you score points on the field and the road, I've laid out some of my favorite vehicles and the football positions I think would make a good fit.
Quarterback
Quarterbacks need to be strong, confident and graceful. Not only do they have to offer top performance on the field, but they're also responsible for commanding a team. That's why the new all-electric Chevrolet Blazer offers the complete package with style, performance and technology.
A quarterback is built around tremendous throwing power and the ability to scramble for yardage. The midsize Blazer SUV is built around the game-changing Ultium battery platform, which offers flexibility in charging speeds, range and performance, giving the EV the sheer power and confidence needed to go the distance.
Receiver
Dominating the competition means receivers must be nimble, smooth and fast. That's where the Chevrolet Corvette Stingray comes in. Powered by a 6.2L LT2 V8, this mid-engine masterpiece is a sports car purpose-built to take on all contenders — on and off the field.
Offering both stamina and power, the Corvette boasts 495 horsepower, making it the most powerful Stingray ever. In fact, that's 440 yards, or over 3.6 football fields, in just 11.2 seconds. Consider drafting this one to your lineup.
Linebacker
Linebackers are the powerhouses of the team, boasting sturdiness, intelligence and versatility. The GMC HUMMER EV is the world's first all-electric supertruck, dominating outside but deft all around.
Available in two models, the HUMMER EV handles terrain with its innovative features. For example, do you need to get over or out of a tough spot? Just initiate Extract Mode and the HUMMER EV activates its Adaptative Air Ride Suspension to raise approximately 6 inches to surmount tough obstacles. Just like linebackers stopping the offense!
Safety
The safety is known in football as the last line of defense. Utilizing awareness and athleticism, the goal of the safety is to use sharp senses and stop big plays from happening. Taking directly from that football terminology, the Buick Envision compact SUV was built to inspire confidence with an instinct for safety.
The J.D. Power Award-winning Envision offers a suite of nine advanced safety and driver-assistance technologies, including Forward Collision Alert, Automatic Emergency Braking and Rear Cross Traffic Alert. Just like on the football field, safe travels (and good defense) start with awareness. 
Kicker
Last, but certainly not least, we've got the kicker. These players are calm, cool and collected. Masters of high-stakes situations, it's important for kickers to be reliable yet powerful. That's why you'll score extra points with the all-electric Cadillac LYRIQ.
Powered by the Ultium Battery Platform, the LYRIQ delivers a sporty, responsive and agile drive that makes every mile a milestone. And the LYRIQ's Super Cruise hands-free driver assistance technology offers flexibility to adapt to changing conditions.
Whether you're staying home to watch the game on your couch or heading out for some tailgating glory, imagining your favorite GM vehicles as star-powered positions can help make your Sunday a little more exciting.