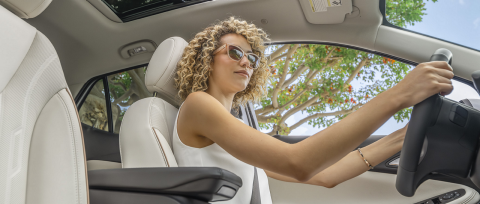 Conquer Your 30-minute Commute
If you're like the typical American, a nearly 30-minute commute ­— if not longer — stands between you and your next location every day. Beat the transportation blues, no matter how far you're going, with these ideas.
Connect smarter for a more enjoyable ride
What if your phone and car could work together better? With Apple CarPlay® and Android AutoTM, they can. Seamlessly connect your compatible phone to:
Navigate using your favorite app
Entertain yourself with music on SiriusXM radio or listening to audiobooks and podcasts
Communicate hands-free by text or call
Charge cord-free with recharging consoles in select vehicles
Merging your phone and car means you can focus on the road ahead while still having an entertaining commute. Remember to keep both hands on the wheel when driving.
And if you're considering connectivity features for your new GM vehicle, sign up for My GM Rewards when you get your new ride. You'll immediately start earning points redeemable for a certified GM service allowance, OnStar® services and more.

Take advantage of safety features for a smoother drive
The way you look at your commute depends on the type of driver you are. Maybe you use the time for gathering your thoughts before a busy workday. On the other hand, it may be the most stressful part of your day. Of course, you should always be attentive to traffic, surroundings and road conditions. However, innovative safety and driver-assistance technologies (available on select GM vehicles) can help take some of the stress out of rush hour.
Advanced safety features, like adaptive cruise control and lane-keep assist, help you stay within your lane without even turning the wheel, while intuitive features like automatic emergency braking, forward collision alert and active lane control will give you added peace of mind as you trace your route to or from work.
And later in 2023, Ultra Cruise will join GM's lineup of hands-free advanced driver-assist systems on select models, making door-to-door hands-free driving a reality in 95% of driving scenarios in the U.S. and Canada. Now that's conquering a commute!