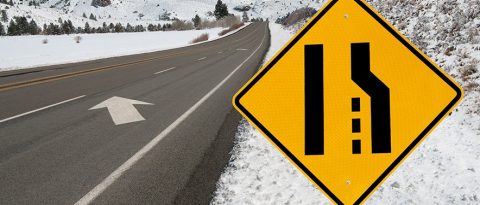 All signs point to B!
If you selected mostly B answers, you're a road sign whiz! The A and C answer choices were wrong, but we're providing a refresher. Look at the descriptions of the signs below to see what they really mean and when you might encounter them.
There may be horseback riders ahead. Be alert and share the road.



You may encounter this sign if you're driving in an area with lots of horses, like horse parks, near ranches or where people take horseback riding lessons. Be on the lookout for horses and remember that riders have the right of way at intersections. Always give horses plenty of space; don't drive too close.

Red signs indicate the most important advisory information on the road.



Red signs indicate important information for traffic flow. Drivers must do what is shown on the sign.

There may be rocks falling from a mountain.



You're likely traveling through mountain ranges if you see this sign. Loose rocks at various heights on the mountain may fall with gusty winds, rain or creatures moving them. Be on the lookout for rocks, trees and other obstacles on the road ahead.

You're in a construction zone, and a flagger is directing traffic ahead.



You'll need to pay special attention because there is construction on the road ahead. A person is using a flag or stop/slow paddles to direct traffic in the work zone, so expect to slow down and potentially stop before being motioned to proceed.

The road ahead is sloped at an 8% decline; trucks and trailers should use a lower gear to descend.



You'll find this sign in mountainous regions and hilly areas. It is easy to lose control of a vehicle traveling down a steep slope. By putting the vehicle in a lower gear, tractor trailers are better able to handle the slope safely.

When the light is green, you may proceed if traffic is clear and it is safe to go.



Always look both ways before entering an intersection to make sure it is safe for you to cross. This sign tells you that you shouldn't go just because you have a green light. You must yield to oncoming traffic and wait until traffic is clear before turning left.

It's a warning that the bridge ahead is narrower than the road.



When you see this sign, be aware of the width of the road. This could indicate that there is no shoulder ahead or that you may be traveling closer to oncoming traffic because the lanes are narrower.

Blue and green signs are guide signs.



Blue signs are reserved for travel information to assist drivers. They can include information pointing to hospitals, lodging, food and refueling. Green signs tell you where you are and the distance to get where you're going. They also indicate exits and proper lanes for connecting to other major express ways.

The road ahead is slippery when wet.



These signs are usually placed near a bridge or overpass to indicate to drivers that the pavement ahead may be slicker than the rest of the pavement during rain or freezing weather. Drivers should use extra caution when driving on the wet road and not make any sudden changes in direction.

Deer cross the road throughout this area.



These signs are placed in areas with high populations of deer. Contrary to popular belief, deer and other wildlife do not cross at just the sign. It's common to find deer along the side of the road or crossing the roadway in the general region. Drivers should be alert when wildlife is present and prepared to slow down to avoid the deer.

Yellow and orange signs signify general warnings and temporary hazards.



Yellow signs serve as general warnings and indicate a driver may need to slow down and proceed with caution to navigate the special situation or potential hazard ahead. Orange signs signify there is road work or maintenance ahead, and drivers should be on the lookout for workers on the road and speed limit changes.

Slow-moving vehicle doesn't travel over 35 mph.



These reflective orange triangle signs on the rear of vehicles, such as farm vehicles or horse-drawn wagons, mean it is traveling 35 mph or less. Use caution when following or passing these vehicles on the road.
Want to take a detour to see some more fun quizzes? See what kind of driver you are and if we can predict how you'll spend your tax refund.