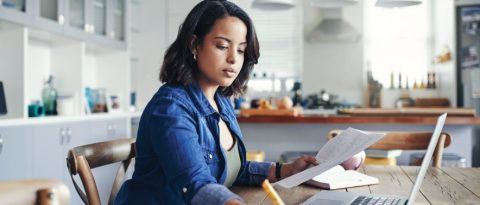 Adding Up the Benefits of the Line-Item Budget
A full accounting of spending, saving and keeping your goals top of mind just makes sense (or in this case, cents).
Make payments on time. Track spending. Build the emergency fund.
Spend less. Make smart purchases. Save for retirement.
Whatever your goals are, budgeting can be intimidating. That's why this series of guides is here to help you find the plan to suit your needs. Let's explore the line-item budget.
How it works
The line-item budget is likely the method most people think of when they hear the word "budget." Enlisting the help of a spreadsheet or good old pen and paper (and calculator), this style is a great way to keep track of every penny you spend. It places an emphasis on tracking your money, so if saving money is a priority, consider giving savings its own line.
Who: Beginners and those who want more control over their spending
Why: Track every purchase to not overspend; increase awareness on spending habits
Pros: Easy to create; detailed
Cons: Difficult to keep track of irregular expenses; time intensive; easy to forget about saving
Let's take a closer look at the steps to make this budget, and then view an example budget.
Creating a line-item budget
Review current and past bills and paychecks. Determine what items you need to include in your budget and how much you usually spend.
Set an estimate for how much you will spend each month for different items. Each expense gets its own line, but if you're more visual and need to group things into categories, that works, too. Color-coding or grouping under category headings are some ways to help make your budget more organized.
Write each purchase you make throughout the month as its own expense line. It might be helpful to make an automated spreadsheet that tells you how much you have left to spend in each category. Or find an app to track your spending.
Compare your actual spending to your budgeted amount. At the end of the month, add up all your expenses. Did you spend more than you budgeted for? That's OK, your budget is a work in progress and can be adjusted next month. As long as you're being mindful of your purchases and aware of your goals, you can still work toward reaching them. Did you spend less than you budgeted for? Great! Now you can add that leftover money to your savings account or emergency fund.
Reassess your budget as time goes on. Make adjustments that align with your goals to keep your budget on track.
Example budget:
*This is an example and is not indicative of what one's financial situation should look like in order to benefit from using the line-item budget. The character in this budget is fictitious and not derived from actual customer data.
Meet Detail-Oriented Dan. He recently leased a new GMC Canyon truck, which is a big expense he's not used to having. To stay on top of his finances, he decided it's best to track every purchase to ensure he stays within his budget.
Some of Dan's priorities are making fixed payments on time, saving for the future and not spending too much money on "wants," which he split into eating out and entertainment categories. Plus, he likes to get away sometimes and has started planning a road trip to some national parks that he needs to save for. Dan puts 10% of his income toward his 401(k), which gets taken out his paycheck before taxes, like his health insurance. His income is $2,960 a month after taxes.
Budget estimate:
Dan calculated his fixed expenses first, and then estimated his spending goals for the variable categories.
| | |
| --- | --- |
| Fixed Expenses: | Variable Expenses: |
| | |
| | |
| | |
| GMC Canyon Lease Payment: $315 | |
| | |
| | |
| | |
| |   |
| |   |
He created an automated spreadsheet to keep track of the amount spent per category. Dan enrolled in Auto Pay in MyAccount to align with his goal of making his truck payment on time, and wrote that line item down when the payment was made. He did the same with his other bills and noted what category they fell into. He also created a bar chart to visualize his budgeted estimates versus amount spent on variable expenses. This is what Dan's budget looked like after one month.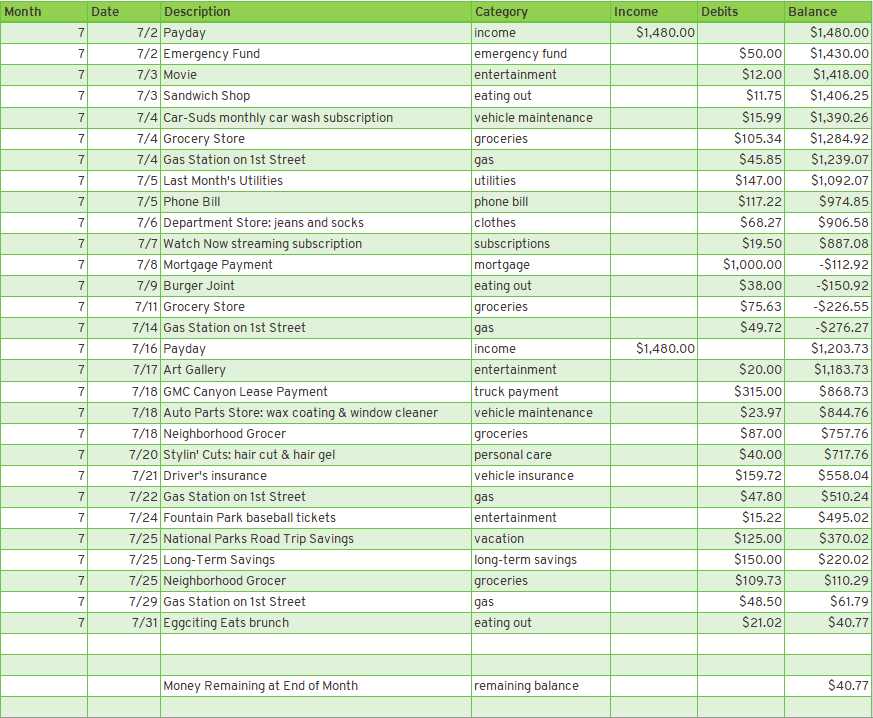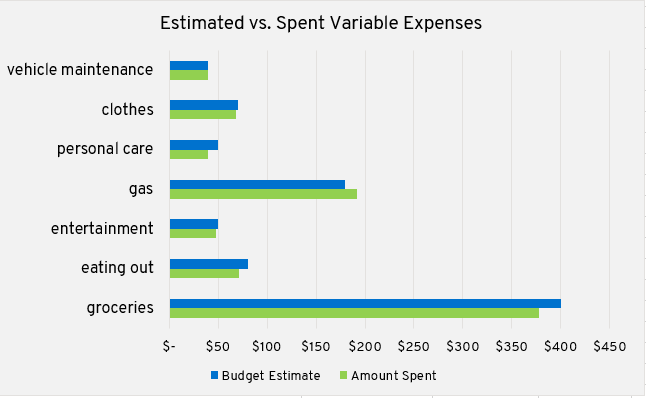 Dan did a good job staying on budget in most categories. He spent a little more than he wanted to in gas because the art museum he went to was far away, so he'll reevaluate his gas estimate to see if it's realistic for the following months. He didn't spend as much as he budgeted for in some of the categories, which left him with $40.77 at the end of the month.
On the first day of the next month, he'll deposit the residual money into his long-term savings account. That money won't count as that month's savings, though. Dan still allots $150 from his income to go in that category.
The line-item budget is just one solution to help you meet your financial goals. There are other methods out there that can help you prioritize your spending, set aside savings and keep track of expenses. If this budget doesn't seem to fit what you need, take a look at the 60-40 budget rule, envelope budgeting, the zero-based budget and the pay yourself first budget.