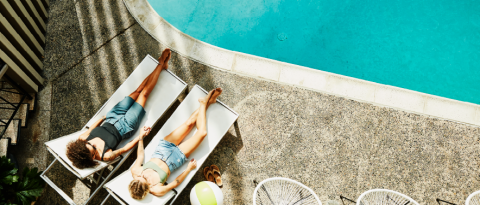 9 Ways to Have a Budget-Friendly Vacation
Nothing dims that post-getaway glow quite like realizing you've overspent and capsized your vacation budget. When you don't have the right financial tools and strategies, even trying to plan a cheap vacation can get expensive fast.
Don't sweat it. Put some aloe vera on that sunburn, shake the sand out of your shorts and use these travel budget tips to help you plan affordable vacations and stay on track before, during and after.
Before you go

Do your homework. A little bit of research can save a lot of money. Read up on your destination to get a feel for what you can expect to spend on food, drinks, shopping and entertainment.
Pro tip: A road trip may help you keep your budget in check, and you'll get to spend extra time with your traveling companions. Plus, it gives you a chance to test out these five ways to improve gas mileage.
If you're traveling abroad, make sure you understand the exchange rate and what fees, if any, your credit card companies may charge for currency conversion.
Look for deals. Online coupons and discount sites are great ways to find hidden treasures in your vacation spot and save money in the process. Browse online to see where you can find coupons for tours, shopping, food and more.
Build a loose budget. Once you've done your research and collected some coupons, you'll have a better idea of what you can expect to spend each day. Draft a vacation budget, but leave some room for spontaneous detours and impulse buys.
On vacation

Be a team. Budgeting is easier when everyone is on the same page. Talk to your travel squad about your vacation budget. That way when everyone indulges in a fancy lunch or shopping spree, no one is upset when dinner is more low-key. 
Focus on experiences. While on vacation, opt to spend time doing things like tours, classes and activities. The memories and happiness they create will last much longer than a $19 snow globe.
Track your spending. Write down every dollar you spend. Don't make it about guilt; just jot it down and don't look at it too much. This log will help you identify patterns and get back on track when you return.
When you return

Assess your budget. As soon as you get back, look at your bank statement and spending journal to understand where your money went. Don't be too hard on yourself if you overspent. Getting a clear picture now will help you figure out how to get back on track faster.
Make a plan. If you racked up expenses on vacation, you may be tempted to ignore that bill or pay it off a little at a time. Don't! Decide where to reduce spending areas and commit to getting current and staying current on your bills.
Know for next time. Even if your last trip was a budgeting nightmare, swearing off vacations forever isn't realistic. Keep in mind the lessons you learned this time around, from affordable vacation activities to spending patterns, and let them inform your planning for the next getaway.
Looking for more ways to bounce back? Check out KEYS® Online for free courses covering a variety of financial topics.