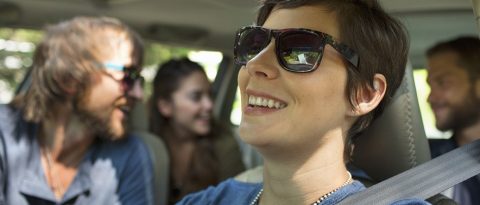 Surf, Songs and Stars: 3 Epic Summer Road Trips
Some of my fondest childhood memories are when we loaded up the family Chevrolet Suburban, packed plenty of snacks and hit the road on the long-awaited drama-free summer vacation. I'll be taking my family on a road trip this summer and as a parent, safety is a top concern, both while on the road and at our destination.
Let's look at three great summer road-trip adventures and ways GM vehicles keep you safe while you get there.

Coastal Cruise

For a long road trip this summer, set your navigation for the Pacific Coast Highway. Travel along State Route 1 for some sunny, scenic summertime fun.
There's plenty of stops to make along the coast. If you're a surfer, Huntington Beach or "Surf City, USA" is a must. Or, if you're looking to snap incredible photos, you'll want to explore Big Sur's captivating scenery.

If you traverse the entire highway, this trip clocks in at just a little over 656 miles. Having your vehicle equipped with Lane Keep Assist with lane departure warning technology will make it a safer cruise along the coast. This safety feature uses a brief, gentle steering wheel turn to let you know when you may be drifting out of detected lane lines. And if you've already made this journey, there are other great coastal road trips to consider.

Musical Meander

Perhaps you're a music lover looking to hit some very famous historical sites. You should consider a rockin' road trip through Tennessee's "Music Highway." This 210-mile stretch between Memphis and Nashville is dubbed the Music Highway for the storied history of legendary musicians in both cities who were instrumental in creating American popular music.
Make a stop at Graceland for an unmatched Elvis Presley experience or Sun Studio in Memphis to visit where legendary musicians ranging from Elvis to Johnny Cash to B.B. King and other prominent artists created and recorded the tunes we enjoy today. Once you're in Nashville, a stop by the Ryman Auditorium and the Grand Ole Opry are a must.
Traveling along this corridor with GM's Adaptive Cruise Control in your vehicle will increase your safety during your trip. This technology enhances standard cruise control by using the forward collision alert system and limiting the need for frequent braking and accelerating when following a car ahead based on a driver-selected following gap.
Starry Sky Spin
It's hard to beat the views of a scenic summer night sky. If you're looking to soak in the stars of the Milky Way, you'll love a trip through "Big Sky Country" in Montana and Wyoming. With national parks to visit like Glacier National Park and Yellowstone, you'll have ample opportunities to stargaze on this outdoor adventure. If you're making this trip in a Cadillac CT6 or 2021 Cadillac Escalade, this nighttime travel can be enhanced with Cadillac's Night Vision technology.
Whether you're looking to plan an amazing summer camping experience or visit less scenic views, it's important to be comfortable and safe on the road. If upgrading to a larger ride with a third-row seat or finally indulging in something sportier is in your future, GM has a wide range of vehicles that fit the bill. Shop our current vehicle offers for deals and incentives on your next ride.