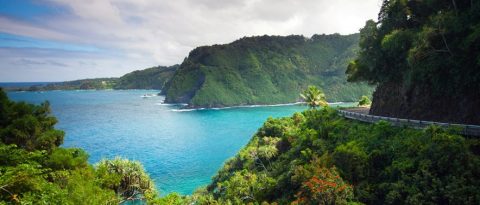 Best Coastal Road Trips in America
Note: Some suggestions might be closed due to COVID-19. Visit your desired destination's website before planning your trip to ensure they're open, and follow all required pandemic protocol.
Many people look forward to their annual summer road trip. You never know when you'll turn a corner and find yourself amid photo-worthy scenery or pulling over to check out a captivating roadside attraction.
There are many iconic scenic drives in the U.S., and plenty of them feature an ocean view. Here are three to consider when planning your next coastal road trip.
Pacific Coast Highway
The most renowned coastal drive in the country is California's picturesque Pacific Coast Highway, or PCH for short. The longest road in California, the PCH takes you through some of the country's most beautiful views and some of the state's most popular destinations, including Big Sur, Santa Barbara and Sonoma.
Typically, you can pick up the route just outside of San Francisco and drive south along the Pacific coastline for more than 600 miles toward San Diego. The curvy road makes for a fun drive, but there are also steep drop-offs that may make you queasy if you're afraid of heights, so identify these spots ahead of time if that's the case.
You can make the trip in a day if you drive straight through, but you'll want to plan for extra time so you can pull over to take photos and explore the sights along the way.
What to see: Hearst Castle, once the estate of publishing magnate William Randolph Hearst, is now one of the largest historic home museums in the U.S. It houses more than 25,000 artifacts, including Hearst's significant art collection.
What to know: The best way to make this trip is with the windows down and the wind in your hair, and the best months to experience that crisp ocean breeze are July and August. When you go, OnStar® can provide turn-by-turn directions, while a traffic apps can help keep you up to date with current road conditions or heavy traffic areas.
Hana Highway
It will come as no surprise that one of the country's most spectacular coastal drives is in Hawaii — 64.4 miles along the eastern edge of Maui, to be exact. Cruising the Hana Highway can take several hours, and keep in mind that there are no cutoffs, so your options are to either finish the route or turn around and head back to where you came from.
You'll encounter the occasional one-lane bridge and sharp turns along the way, but it'll be worth it. The trek will also treat you to turquoise surf, steep sea cliffs, bamboo forests, black sand beaches, plunging waterfalls and other tropical delights.
What to see: The Hana Lava Tube is a volcanic cave formed more than 900 years ago. Visitors can grab a flashlight and explore this natural phenomenon. (Don't worry, it's bat-free.)
Where to eat: Stop at one of the many food stands along the route for some delicious banana bread. The Hana Farms stand, located right near the "Welcome to Hana" sign, has several organic varieties to choose from, including some with fresh island pineapple or roasted macadamia nuts.
What to know: The gas prices in Hawaii are some of the highest in the nation, but you can use apps to help track down the best deals. Remember that Onstar Connected Vehicle allows you to pay for fuel from your infotainment system, making it that much easier.
Park Loop Road
Maine's Acadia National Park is one of the most visited parks in the country, and Park Loop Road is a big reason why. It's only 27 miles long, so it's a fairly quick trip, but that doesn't mean it's short on scenery. The road follows the eastern shoreline of Mount Desert Island before heading inland for a bit and then looping back around.
Along the way, you'll pass rocky coastlines, glacial lakes, evergreen forests and mountain peaks. You can make a pit stop and go fishing, canoeing, kayaking, swimming, hiking or biking, or stop in for tea and popovers at the Jordan Pond House.
Park Loop Road is open mid-April through November, although a portion of the road stays open year-round.
What to see: Hitch a ride with Bar Harbor Whale Watch Co. for one of their exciting whale watching excursions in the Gulf of Maine. You'll spy several different species, along with puffins, porpoises, dolphins and seals.
Where to eat: When in Maine, you must go for lobster. One of the best places to get it is The Travelin' Lobster, a no-frills spot with outdoor seating that gets its seafood fresh off the boat each day. And while the portions are hefty, the prices are not.
What to know: Dramatic coastlines are even more striking as the sun goes down. Study up on how to catch the perfect sunset photo before you go.
If these options are out of your way, check out Oregon's Highway 101 or Florida's Overseas Highway. No matter which coastal road trip you choose, you're bound to bring back endless memories from your journey.
Before you head out, look into ways to make your journey as enjoyable as possible. Start with these tips for planning a drama-free road trip.