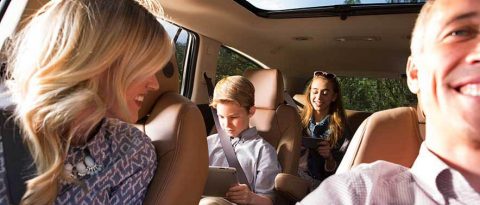 How to Plan a Drama-Free Family Road Trip
There's nothing like a family vacation to help break up the school year or get the summer started off right. Road trips can be especially fun — even if you're traveling with antsy tots or angsty teens. With a little preparation, you can transform a long drive into the trip of a lifetime.
Time for a checkup
Nobody wants to break down on the side of the road. Have your car serviced at the dealership, where they can do a thorough check on your engine, tires, brakes and fluid levels. Schedule your maintenance well ahead of your trip, just in case your vehicle needs some extra TLC.
OnStar® to the rescue
OnStar, a subscription-based service, is offered on more than 30 GM vehicles and includes features that can be especially useful on a road trip. With the touch of a button, subscribers get access to:
Emergency services
Roadside assistance
Navigation support
Security assistance
Vehicle maintenance and diagnostic help
Some GM models also include a built-in OnStar Wi-Fi hotspot, which can come in handy on the road. Download the OnStar app to manage all the services from your vehicle.
Be sure you're insured
Review your insurance policy to make sure it provides adequate coverage. For example, you may need to add other drivers to your policy or opt for roadside assistance if you don't have OnStar.
Although many insurance companies offer downloadable versions of your policy card for your smartphone, it's still a good idea to keep an unexpired card in your glove compartment or center console.
Map it out
Use your smartphone app or the vehicle's GPS technology to map out your destination ahead of time, including fuel stops and bathroom breaks. Consider traveling when traffic is lightest, either early in the morning or late at night. Some families prefer to travel at bedtime so kids can sleep during most of the trip. Do what works for your crew, but be sure your driver is alert and focused no matter what time of day.
Check car seats and booster seats
If you're traveling with little ones, it's important to keep them safe. Start by double-checking that car seats and booster seats are properly installed. If you don't find installation instructions printed on the car seat itself, check the manufacturer's website. You might also find this episode of Ricco's Car Crew helpful.
Snacks matter
By all means, pack everyone's favorite snacks. However, they should be foods that are easy to clean up. Sandwiches, fruit and popcorn — yes. Graham crackers and other crumbly snacks — no. If there's room, pack drinks in a small cooler.
Pack the essentials
Blankets, pillows and phone chargers are among the top must-haves for a road trip, as well as games, books and electronic devices for on-the-road entertainment. Download movies in advance if you don't have in-car Wi-Fi. Also, keep paper towels, wet wipes, hand sanitizer and a first-aid kit at the ready.
Keep it clean
Have a designated trash bag. Repurposing plastic bags from the grocery store works really well and they take up little space. Have everyone do a clean sweep just before every fuel stop or bathroom break to clear the clutter before the next leg of your trip.
Get Sirius
Speaking of fuel stops, did you know SiriusXMTM satellite radio can alert you to nearby gas stations and their prices? Besides commercial-free music, the subscription-based service also provides helpful tips on traffic and weather conditions. Plus, the Custom Mix feature allows you to customize some channels.
Consider an upgrade
Let's face it: Comfort is everything on a family road trip. Passengers who have more room to spread out generally have a more pleasant experience. If you need Wi-Fi in the car or more legroom, maybe it's time for an upgrade. Plus, a newer vehicle could offer more state-of the-art safety features. Find a GM dealership near you and schedule a test drive.