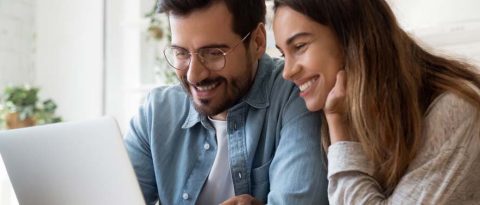 The Budget 'Future You' Will Love
Job offer. New property. Growing family. Want to save more.
Pay cut. Expensive emergency. Credit card debt. Overspending.
The list of reasons for considering a budget goes on and on. Ultimately, you just need to commit to a budget style that works for you and your goals. Here's an option that pays YOU first.
How it works
The pay yourself first budget places an emphasis on saving to reach your goals and uses a top-down approach that's a little less stringent than others out there.
Who: Those who need help saving more; those who emphasize less spending; those finding a balance between today's purchases and tomorrow's possibilities
Why: To prioritize savings and invest in the future
Pros: Keep an eye on the big picture; automation makes execution easier
Cons: Large debt might need to be paid off before saving
We'll see how to create and use the pay yourself first budget, and then check out an example of how this method can help you save for future goals.
Creating a pay yourself first budget
Identify your goals. This budget is going to be most helpful if you keep your goals top of mind. Setting an attainable time frame for reaching your goal can give you extra motivation to stay on track to reach it, for example, saving $2,500 for next summer's family vacation.
Assess your current spending. Identify your necessary expenses and discretionary ones, like eating out and going to the movies. Take a closer look at those funds to determine if there's room to direct some of it into savings.
Determine how much money to set aside each month for each of your goals. For instance, you can start saving $209 a month and have your $2,500 vacation saved up for within one year. This means you'll have to cut back $209 each month on nonessentials or look for ways to save in other categories.
Allocate your determined amount to savings. It's helpful to automate this by having a portion of your paycheck directly deposited into your savings account. If you only have a checking account, consider opening a savings account for all your future goals. This way, you're less likely to spend your savings money prematurely.
Spend the rest of your money with confidence. Now that you've set aside money for reaching your future goals, you can take care of your necessary expenses first, then you'll have the green light to spend the rest on other purchases.
Check on your budget. Make sure you're saving the right amount and still have enough room for other spending. You don't want to rack up credit card debt because you set aside too much in savings and don't have money available. Make sure you balance your purchases and don't overspend on items you don't need.
Example budget
*This is an example and is not indicative of what one's financial situation should look like in order to benefit from using the pay yourself first budget. The characters in this budget are fictitious and not derived from actual customer data.
Meet Married Mason and Michelle. They recently bought a new Buick Encore GX, so they will have reliable transportation for years to come. The couple hopes to start a family in the next few years and knows this will be something to factor into their budget down the road. To minimize money mistakes and save to reach their goals, they decided the pay yourself first budget is the right way to keep track of their money. They started by identifying their top goals and how to make them happen.
Mason and Michelle want to aggressively pay off student loans and credit card debt. Because credit card debt accrues compound interest quickly, they want to have a zero balance within six months. Once that's taken care of, that same amount will be added to savings already set aside for the down payment on their house. 
The couple went through their current expenses to determine how much they will set aside each month and gave rough estimates to different expenses to check their math. Mason and Michelle put 10% of their income toward their respective 401(k) accounts, which gets taken out before taxes, and their take-home pay is $7,600 per month combined. This is what their budget outline looks like:
Category

Spending Allocated

Pretax Deductions

401(k): $943

Health Insurance: $335

 

 

 

Top Savings

Credit Card Debt: $200

Down Payment on House: $2,350

Student Loans: $500

 

 

 

 

Other Savings

Long-Term Savings: $100

Vacation: $200

Emergency Fund: $85

 

 

 

 

Necessary Expenses

Rent: $1,450

Auto Insurance: $275

Renters Insurance: $20

Buick Encore GX Payment: $390

Utilities: $150

Gas: $300

Phone Bill: $135

Vehicle Maintenance: $70

Groceries: $750

 

 

 

 

Discretionary Expenses 

Eating Out: $150

Entertainment: $150

Personal Care: $100

Clothes: $200

Streaming Subscriptions: $25

 
The couple is very aware of their spending. By automatically putting money in their savings account and setting up automatic payments for their car, they are staying on top of payments and keeping savings' money out of spending's reach.
The pay yourself first budget is just one solution to help you meet your financial goals. There are other methods out there that can help you prioritize your spending, set aside savings and keep track of expenses. If this budget doesn't look like it will suit your needs, look into other budget types, like the 60-40 budget rule, envelope budgeting, the zero-based budget and the line-item budget.