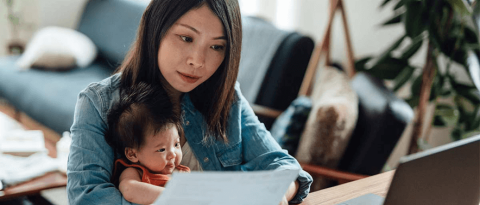 Is the 60-40 Budget for You?
Everyone's heard the phrase, "You should make a budget!" But so often, it's easier said than done. When I started making my budget, I had all kinds of questions swirling through my head.
Where do I get started?
How do I stay on track?
Is this realistic?
Starting or revisiting a budget can be a daunting task, but it doesn't have to be. Sometimes, we might just need a little help organizing our approach. Let's explore the 60-40 budget rule.
How it works
The 60-40 budget plan places an emphasis on ensuring you pay off your urgent bills and compartmentalize other aspects into manageable categories. This budget says 60% of your income should go to "committed expenses," which are necessary monthly costs like mortgage or rent, car maintenance and health insurance, as well as the nonessentials you're committed to. This can include interests like sports leagues, music lessons or gym memberships.
The remaining 40% is split into 10% categories that cover retirement savings, debt and long-term savings, short-term savings, and fun activities.
Why: Set long-term goals and start working toward them; cover necessary expenses while leaving room for saving and fun
Who: Those who want a guide on how to approach their overall spending; those fairly comfortable with current spending who want guideposts to keep on track
Pros: Think about the big picture; simple format
Cons: Provides an end goal but not necessarily the path to achieve it; not good for aggressively paying off debt
Let's see how this budget works, and then look at an example budget for a family of four to see what their goals are and what their budget looks like.
Creating a 60-40 budget
Determine what items should be included in your 60% "committed" category. Review current and past bills and paychecks to help you decide. Remember, you don't have to draw the line at only the bills you need to pay. This can also include things important to your lifestyle, like the upkeep costs of your classic car or boating/fishing equipment.
Designate 10% of your income toward retirement. This might be a pretax deduction from your paycheck into a 401(k) account or an after-tax contribution into an IRA. There are many choices out there, so even if your employer doesn't offer an employer match on retirement savings, you can find something that works for you.
Reserve 10% of your paycheck for short-term savings. Some of these savings could be for vacations, upgrading to a new vehicle and irregular expenses like the annual fee on a streaming service.
Allocate 10% for long-term savings and paying off debt. This could include large purchases like the down payment on a house, a new vehicle or a future college fund. It could also mean building your emergency fund to have at your disposal when something unexpected comes up.
Estimate the remaining 10% for fun and entertainment. This includes eating out, going ziplining or anything else you do in your spare time.
Keep loose track of your spending. Decide if those percentage goals are the right ones for you. Some adjustment may be needed, and your budget goals may end up looking more like 60-10-15-10-5 if you're saving up for a special vacation, or like 60-10-10-15-5 if you want to save more to buy a house.
Example budget:
*This is an example and is not indicative of what one's financial situation should look like in order to benefit from using the 60-40 budget. The characters in this budget are fictitious and not derived from actual customer data.
Meet Forest and Fran, who have two kids, Freddy and Frida. Forest and Fran are pretty good with managing their money, but they still like to have loose parameters on their spending to make sure they stay on track to reach their goals. They decided the 60-40 budget would be best to measure against because it allows for good flexibility in spending criteria and encourages them to save for near and future goals.
Some of Forest and Fran's long-term goals are to save money for their children's college tuition and be able to make the down payment on a new house in a few years. Their short-term goals are to save money to build a deck in the spring and start saving for summer child care, since both parents work all day. They also want to factor the kids' soccer and softball leagues into their committed expenses, since being active is part of the family's lifestyle.
After taxes, Forest and Fran make a combined $8,400 per month. They broke their budget down into the following categories and loose spending allotments:
60% Committed Expenses = $5,040
| | |
| --- | --- |
| | |
| | |
| | |
| | |
| Cadillac XT5 lease payment | |
| |   |
| |   |
|   |   |
10% Retirement (gets taken out of their paychecks before taxes) = $1,083
10% Short-Term Savings = $840
Deck
Summer day care
Vacation
10% Long-Term Savings and Debt = $840
| | |
| --- | --- |
| |   |
| |   |
| |   |
| Down payment for new house |   |
10% Fun Money = $840
This is the loose budget that Forest and Fran want to stick to. They aren't going be tracking every single penny but know that as long as they're in the ballpark with their expenses, they should continue to remain on track with their spending. They've also started teaching good money habits to their kids.
The 60-40 budget is just one solution to help you meet your financial goals. There are other methods out there that can help you prioritize your spending, set aside savings and keep track of expenses. Other proportional budgets, which segment portions of your income into different purchases, are the 50-20-30 budget and the 70-30 rule. If this method isn't right for you, check out other options, like the line-item budget, envelope budgeting, the zero-based budget and the pay yourself first method.