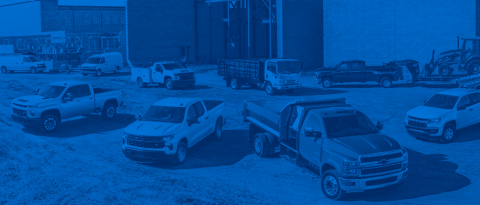 Be Prepared With a Line of Credit
Imagine your business is bidding on a lucrative contract. It requires more vehicles than you currently have. To take advantage, you need to grow your fleet. But the clock is ticking.
Or picture another possibility. Over the course of two weeks, three of your five vehicles are damaged beyond repair, and every day they go unreplaced is a drain on your bottom line.
These scenarios paint a familiar picture for business owners and fleet managers. Opportunities often come with hidden challenges, and unexpected setbacks are a reality. The key is to be prepared.
As Kris Morris, VP of Commercial Vehicle Lending and Fleet for GM Financial, says, "Time is money for businesses, and vehicles are revenue-producing assets."
The more time you put into acquiring those assets, the less revenue they produce.
Although a bank loan is a reliable way to purchase or lease a new vehicle, the approval process can slow you down. If you need multiple vehicles, you'll need to repeat that process for each one, costing you even more valuable time.
Kris says that a line of credit is ideal for companies looking for ways to quickly address changing fleet needs. "Securing a line of credit is a simple one-time application. Then you can quickly add vehicles when you need them."
Unlike a loan, where all the funds are deposited into your account at once, you can tap into your line of credit as needed throughout the year. You only pay back what you take out, so if your plans change you won't be on the hook for the entire amount. And if you don't spend any of it, there's no penalty.
Not all lines of credit are the same, and the differences are important. Bank products typically allow spending on anything business related, whether that's vehicles, payroll or other overhead costs.
GM Financial's commercial vehicle line of credit, beginning at $250,000 and reviewed annually, is dedicated to vehicle purchases or leases. This allows you the flexibility to keep bank lines of credit open for other areas of your business.
Kris believes that a line of credit should be more than a financial transaction. "It's a gateway into a partnership with an experienced team. It opens the door for further conversations about what's best for your fleet," he says.
A line of credit can help your business be prepared for opportunities and setbacks as they arise. But it's also a critical piece of a larger fleet management strategy, along with fuel, maintenance and fleet cycling. Reach out to our experts to learn more about opening a commercial line of credit and to discuss how GM Financial can help you build a plan that fits your needs.