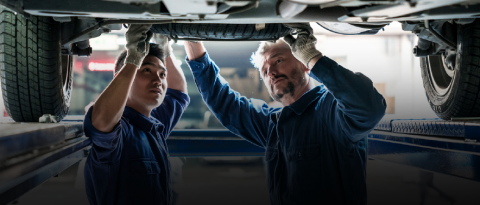 Efficient Vehicle Maintenance for Your Business
Efficiency is essential to the success of any business that relies on vehicles. And efficient maintenance is the key to keeping drivers on the road and vehicles running longer, leading to greater productivity and return on your investment.
Whether you're a business owner, full-time fleet manager or an employee juggling fleet management on top of other responsibilities, getting the most out of your vehicles is a top priority.
Here are three opportunities for efficient maintenance you can take advantage of to get started.
 
Regular maintenance
Regularly scheduled maintenance optimizes vehicle performance and helps keep fuel costs low. It will also help you identify potential problems before they become major issues that can sideline your vehicles longer.
Based on the maintenance recommendations found in your owner's manual, establishing a schedule for regular oil changes, tire rotations, brake checks and engine diagnostics will go a long way toward extending vehicle life and reducing repair costs.
Replacement rentals
At some point, a vehicle will need to go in for repairs. But that doesn't have to result in driver downtime.  Replacement rentals can keep your business moving when vehicles are off the road.
A replacement rental program provides access to a network of rental locations, where drivers can contact the rental company and get the replacement vehicle they need to keep working.
Consistent service providers
When it comes to regular maintenance or repairs, the lowest price from any mechanic isn't always the best solution. The right relationship with a high-quality service provider can increase efficiency and save you more in the long term.
Whether that's your dealer's service department or another service provider, a consistent relationship opens up possibilities for pricing that fits your needs and enables your drivers to be serviced quickly, conveniently and consistently.

If you run a company or have other responsibilities, you may not have the time or energy to take advantage of these opportunities. GM Financial has the expertise and tools to help businesses like yours maximize efficiency. If you'd like help, or have any questions, don't hesitate to reach out.