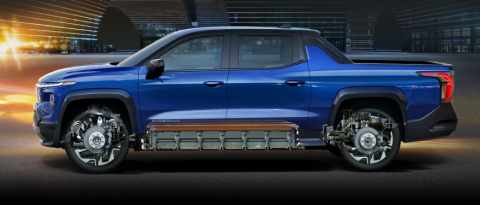 Getting Your Business EV-Ready: Step One
Electric vehicles are here, and more are coming. As EV availability increases and charging infrastructure grows, consulting with experts may help you plan wisely. (The GM Financial team is here to assist. Get started with this quick form.)
If you want to hit the ground running with EVs in the future, you should start thinking about them today. And even if you don't plan on going electric, it's important to know your options.
Dan "DJ" Lord, VP of Fleet Services at GM Financial, urges businesses to consider EVs. "They have the potential to save businesses money on fuel and maintenance, and the technology has advanced to where you don't have to compromise performance."
Referencing large corporate fleets like Domino's that have recently committed to an EV future, DJ explains, "They wouldn't be doing it unless there was a big impact." But for businesses of any size to realize the advantages of EVs, an initial self-assessment is key.
"Make sure you understand where your fleet is today, so you can understand the impacts EVs will have tomorrow," DJ says.
Know your fleet costs
If EVs are going to play a role in your future fleet, it's important to understand what they'll mean for your bottom line. That begins with controlling your current fleet costs. Knowing your costs down to the mile will help you assess the financial impact of EVs on your business and prioritize which vehicles should move to EVs.
The good news is that this level of control is available to any business. No matter the size of your fleet, access to reliable data on fuel and maintenance costs, vehicle idle time and other details that contribute to cost per mile is readily available.
Know your fleet needs
You also need to be confident that EVs can do the job without compromising performance. According to DJ, "understanding the work your vehicles are doing now will help you know whether EVs can meet the same needs."
EV technology has advanced rapidly, so there may be a few outdated assumptions about their performance.
But DJ is confident that EVs are up to the task. "They are ready for fleets," he says, pointing to the Chevrolet Silverado RST. Built as an EV from the ground up, this all-electric truck features a 400-mile range, 754 hp, 785lb-ft of torque and goes 0-60 in 4.5 seconds.
"Seeing is believing," DJ says. "Go and see an EV. Test-drive it. Feel it."
Knowing your fleet is the first step in moving toward an electric future, and we're here to help. Reach out when you're ready to discuss how GM Financial's expertise in fleet management can save you money today and help you get ready for tomorrow.
ASK AN EXPERT ABOUT ASSESSING YOUR FLEET COSTS