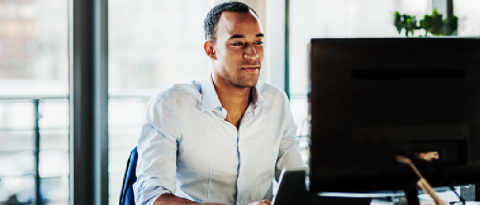 3 Keys to Fleet Management Success in the New Year
As you look ahead to next year, do you have a plan for getting the most value out of your business vehicles?
Vehicle shortages, shifting gas prices and economic uncertainty call for strategic thinking about your fleet. Going into the new year with a solid plan can keep your business running strong even when things are unpredictable.
Kevin Peters, SVP of Commercial Vehicle Lending for GM Financial, urges business owners and fleet managers to meet today's challenges with a proactive mindset.
"Today, most dealers aren't filling their lots with vehicles," he says, explaining that you may not be able to walk into the dealership tomorrow and pick out the vehicle you need. He continues, "but if you can anticipate your vehicle needs over the next year, you can get what you need, when you need it." With proactive planning in key areas like inventory, fuel and maintenance, you'll be well positioned to increase fleet efficiency, trim costs and have a successful year.
The challenge of planning
Peters notes that instead of a plan, "many businesses tend to react to the needs of their fleet." This is often because a business owner or employee is juggling fleet management on top of other responsibilities.
You may not have time to think about an effective fleet management plan. But this can leave you with an unprepared and inefficient fleet, and without a plan you are more likely to be buried in fleet management tasks that keep you from higher-value work.
The good news is that proactive fleet planning is possible no matter how big or small your business is. The right fleet management partnership can provide you with the systems, expertise and flexibility you need to be successful.

Systems you can depend on (and don't depend on you)

Instead of building and maintaining fleet management systems yourself, leverage systems that already exist to do the heavy lifting for you. A fleet management company will help you:

Evaluate your current fleet and identify inefficiencies
Simplify planning and execution as your fleet and business grow
Monitor the efficiency of your fleet through tools that provide actionable data and insights

Experts to consult with

When you're a fleet manager or a small business owner, sometimes it can feel like you need to become an expert on everything just to stay afloat.


This is where having a team of experts in your corner can save the day, freeing up your time and focus for your highest-value work and helping you ask the right questions about your fleet, such as:

How many new vehicles should you purchase or lease next year?
When is the best time to replace a vehicle?
What are the pros and cons of electric vehicles?

Flexible partnership

For anyone in business, change is a constant. And nowadays, change seems to happen faster and more often than ever.

The best systems and smartest experts won't be much help if they can't nimbly adapt to changes — in your business, your industry and everywhere in between. You need:

Partners who are committed to your success, no matter the size of your business or how many vehicles you have.
Systems that won't become obsolete every time new technology is released.
A team who can give you effective fleet management tools while maintaining the relationships that helped build your business.

Next steps

When you're ready to talk about how your fleet can drive new levels of business success in the year ahead, give us a call.

As Peters puts it, "we want to bring the customer, the dealer and ourselves together to meet fleet needs."

GM Financial's commercial vehicle experts are standing by to understand your goals and challenges, and help you find new ways to ensure your entire fleet runs smoothly.