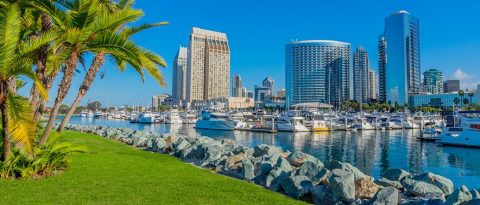 Try Your Luck With 4 Green Destinations
Editor's Note: Please be mindful of health and safety protocols and consider packing a clean mask, gloves and/or hand sanitizer.
We're big fans of "green driving," so to celebrate, we've compiled some of our favorite travel destinations — each with an emerald nod.
San Diego, California
Greenest City in America and Gardens Galore
Although the picturesque weather in San Diego keeps it green year-round, there's another reason why San Diego makes the green list: It's one of America's greenest-thinking cities. By aiming to eliminate half of its greenhouse gas emissions by 2035, San Diego's Climate Action Plan includes migrating the majority of the city's fleet to electric vehicles.
If you're planning to visit, you probably already know that the San Diego Zoo® gets the lion's share of attention. Although it is definitely one of the world's best, the larger park in which the zoo resides deserves just as much attention. Balboa Park sprawls more than 1,200 acres across the middle of San Diego and features more than a dozen garden and green areas to explore, including a domed botanical building in the middle of the park.
Mesa Verde, Colorado
Setting the Green Table for the Southwest
National parks are typically prime spots to admire the best greenery the country has to offer. Mesa Verde National Park provides views of sweeping vistas that highlight the beauty of southwestern Colorado as it transitions into the deserts of New Mexico and Arizona.
Mesa Verde is Spanish for "green table," and when European settlers discovered the ancient Pueblo cliff dwellings topped by desert greenery, Mesa Verde got its name. It's a great place for a spring or summer road trip destination, and driving around the expansive park to experience all the history it offers is a must.
Gruene, Texas
An Enviable Lush River Aside a Historic Dance Hall
Finding hidden gems by taking the scenic route can be rewarding, and a small town in Texas with a rich history fits the bill for a great reason to explore. Home to Gruene Hall, which is billed as the "oldest continually operating dance hall in Texas," Gruene has seen some of the biggest names in country music perform there, and Gruene Hall continues to attract national music acts.
Not only is Gruene (German for "green") pronounced like March's favorite color, but the area is defined by the lush green of the Guadalupe River, a prime destination for thousands of river-floating tourists annually. The New Braunfels area that encompasses Gruene is home to many outdoor- and water-related destinations, including the original Schlitterbahn Waterpark.
Boston, Massachusetts
The Green Monster and Victory Gardens
March means baseball season is right around the corner, and any sports fan's bucket list — regardless of your allegiance — should include visiting Fenway Park and seeing its most iconic feature. The Green Monster is what the 37-foot-tall left field wall is colloquially called, and you'd be hard-pressed to find a more distinctive feature in a sports stadium.
If greenery is your thing, the "Back Bay Fens" area is home to Fenway Victory Gardens and is just south of the ballpark. The garden is the oldest surviving continually operating garden of its type that was founded during World War II when food shortages and rationing were common. The James P. Kelleher Rose Garden is also a part of this stretch of green space.
When you're ready to hit the road again, you can't go wrong with any of these green destinations for your upcoming road trip.