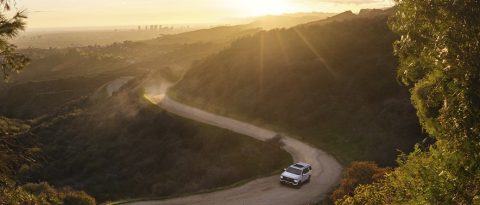 Reasons to Take the Scenic Route
Fields of wildflowers blanket the roadside while sweeping hills give way to breathtaking vistas. The stress of driving melts away as you approach a small roadside BBQ stand and you realize you've made the right choice by adding a little time to your drive. You took the scenic route, and you couldn't be happier about it.
Interstate highways typically help you get from point A to point B as directly as possible, but many times, these routes sacrifice natural beauty and unique experiences in favor of efficiency. Here are reasons to take the roads less traveled.
See the views
Looking for roads lined with trees that feature the full color spectrum as the seasons change? How about picturesque panoramas from hilly and mountainous regions? State highways and county roads tend to feature drives filled with more beauty than interstates, so stop and take some photos, smell the flowers or just marvel at nature when venturing off the beaten path.
Find hidden eats
Taking back roads can reveal some unexpected locally owned gems that get overlooked. Lobster rolls in Maine, Frito pie in Texas, Cuban sandwiches in Florida. Finding those uniquely regional roadside secrets can be rewarding and delicious. Before you hit the road, make a list with help from review sites or look for tips in state and regional publications like Texas Monthly or your state's travel guide. If you're on the road already and have an OnStar® plan at the Guidance level, you can push the blue button to find recommendations on pit stops along the way.
Uncover the unique
If you're traveling from Cincinnati to Indianapolis, you could take IH-74 and save some time, but then you'd miss the "world's largest collection of cookie jars" off U.S. Highway 52. Heading from Memphis to St. Louis? IH-55 is most direct, but then you wouldn't go through Chester, Illinois, and see the "Popeye Character Trail" that features statues of cartoon characters throughout the town. There are thousands of unique attractions throughout the country that require a detour off the main road. Visit websites like Roadside America to discover what might be on your route.
Find a park, do something historic
It's good to get out and stretch your legs every few hours, and finding a park for a short hike or a picnic is a great way to take a break from behind the wheel.
The National Register of Historic Places features maps and other resources for finding notable landmarks along your path. Each state also has online resources for locating parks, historic sites and markers to help you discover interesting pieces of the past you never knew existed.
Steer clear of traffic
If you're hitting the road for a holiday or a weekend, chances are plenty of others have the same idea. The most direct routes tend to have more traffic, so opting for another way might add a few minutes to the drive but save your sanity.
And remember, even one small detour off the main road can sprinkle some variety into a straightforward drive and make it a little more remarkable.
Don't forget to plan ahead
Planning is key if you're going to take in the great outdoors from inside your vehicle. Remember to:
Scout multiple alternate routes and lodging in your GPS or a navigation app by choosing the "Avoid Highways" option.
Get tips from friends and family about their favorite spots to visit along the way.
Add unlimited stops along the way to fill out your trip plans.
Choose "Send directions to your phone," open it on your mobile device, and you're ready to hit the road to new experiences.
Take the navigation integration to the next level if your vehicle works with Apple CarPlay® or Android AutoTM.