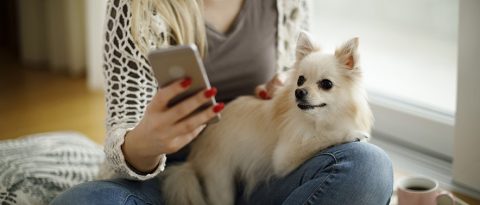 A Day with GM Financial Mobile
It's 6:30 a.m., and the alarm on your smartphone wakes you from your bedside table. Thus, begins another day. From the time we wake up in the morning until the time we go to bed, most of us are consumed with the sheer convenience of a mobile device to aid our decisions, activities, entertainment and the way we do business.
Many times, an intuitive mobile app or easy-to-use website can help you take control of your day. GM Financial Mobile can help you discover new ways to make payments, find answers and simplify your life. Let's take a closer look at the benefits of downloading the GM Financial Mobile app.
NO HASSLE (9:30 a.m.)
Jimmy is having the time of his life on vacation, until he remembers that his truck payment is due tomorrow. Because he set up MyAccount recently, Jimmy's able to simply log on to the GM Financial Mobile app with his fingerprint, review his statement, make a payment and get back to vacationing.
NO INTERRUPTIONS (11:15 a.m.)
Lisa commits to paying bills on time, every time. When she logs on to the GM Financial Mobile app, she decides to sign up for Auto Pay. She's able to set the date, dollar amount and frequency of payments direct from her bank account. By opting in to Auto Pay, Lisa automated what used to be a monthly task and can rest assured her payments will be made on time.
NO CLUTTER (7:45 p.m.)

Michael returns from a business trip to find his mailbox overflowing with magazines, junk mail and billing statements. Fed up with the time it takes to sort through all the clutter, he vows to go digital — starting with paperless billing. The GM Financial Mobile app allows him to log on and easily opt in. He simply updates his profile to choose "Paperless" and happily agrees to no longer receive a monthly billing statement in the mail.
NO ELABORATE PHONE TREE (10 p.m.)
Julia has a question about making her car payment ahead of schedule, but knows it's past Customer Experience service hours. Instead of calling, she quickly logs on to GM Financial Mobile, selects the "Messaging" icon and asks her question. Before she gets to work the next morning, a Customer Experience rep replies to her message, verifies her account status and provides her with the answers and assistance she needs to successfully make the payment.
No matter where you're going or what your day looks like, see how GM Financial Mobile can help you find a better way to manage your account.
DOWNLOAD THE APP