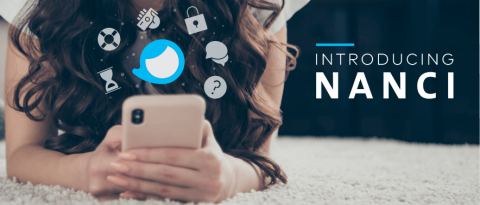 "Hi! I'm Nanci."
With those three words, Nanci introduced herself to the world in early 2020. Her name is derived from the middle of "financial," and she's at the heart of GM Financial's "Customers for Life" core value.
When Nanci first launched, she managed to answer just 10-15% of customer messages. Now, she successfully manages more than half. That means most customer inquiries are resolved without having to talk with a live person, avoiding hold times!
Nanci securely handles some of the most common requests and frequently asked questions. And when questions get tough or the interactions become more complex, Nanci can seamlessly connect to a customer advocate during support hours.
How does Nanci do it?
Nanci uses artificial intelligence and machine learning powered by IBM Watson to answer customer questions. When asked a question, she reviews for keywords and phrases related to known customer queries and quickly and proactively responds.
With help from GM Financial's experienced customer advocates, Nanci is constantly learning about our customers and what they need most, leading to continuous improvement.
When can Nanci help?
As a virtual assistant, Nanci's appeal is her reliability. She's on the clock 24 hours a day, seven days a week. Whenever you message GM Financial, she's there to help.
What does Nanci know?
More than just provide the answer, Nanci can show you how to find the answer in MyAccount or on gmfinancial.com. Instead of waiting for an agent, Nanci can answer questions regarding:
Payment details
Lease-end information
Purchase and payoff quotes
Frequently asked questions
Auto financing options
Auto Pay setup
MyAccount registration
MyAccount password resets
Payment date changes
MyAccount app download details
Title and registration information
Lease assumptions
Is messaging Nanci safe and secure?
The short answer: Yes!
Nanci can answer some questions for customers not logged in to MyAccount, but when confidential account information is discussed, she sends a link to customers to securely log in using their GM Financial credentials.
It's important to note that Nanci will never ask for account information or private information via messaging or texts.
How can you connect with Nanci?
Today, Nanci is the first point of contact for customers messaging GM Financial through MyAccount (in the mobile app or web browser), SMS text and Apple Business Chat.
If you have questions, you can start by logging in to MyAccount and sending a message or texting* INFO to 53721.
Nanci will be there, day or night. Best of all, she's a great listener. The more you talk with Nanci, the more she learns and improves.
*There is no charge from GM Financial, but message and data rates may apply.