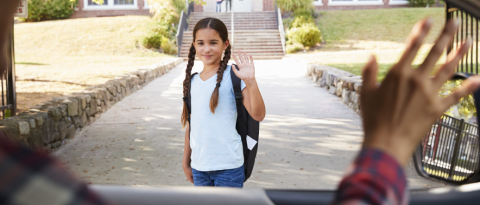 7 Ways to Rule the Carpool
The sun is rising, the kids are loading into the car to go to school — only for you to sit in the chaotic carpool lane — and you're well on your way to needing a second cup of coffee.
While it might be impossible to take all of the stress out of carpooling, here are a few ways to make life in the carpool lane easier.
Plan ahead

Save yourself time in the morning by having the kids' necessities ready to go before they wake up. Pack lunches and snacks and set out your kids' clothes and backpacks either the night before or in the morning.

Have them charge their electronics overnight, so you can pack all the items they'll need for the day, including phones, tablets and gear required for extracurricular activities. That way, everything is "grab and go" when you're rushing out the door.

Play it safe

Carpool lanes and schools are packed with kids, and some of them are likely to wander off on their own — crossing between vehicles and perhaps even in your blind spots. It's important that you're fully aware of carpool etiquette and your surroundings before entering a school zone.  It's good practice to use all the safety features at your disposal, including rearview, front and overhead cameras.

Features like these help keep kids safe, but always look twice before taking your foot off the brake.

Prepare for rain, snow or shine

It could be nothing but sunshine in the morning, but gloomy gray skies by midafternoon. That means what your kid wore to school might not be appropriate for the current climate, so keeping portable ponchos and at least one umbrella on hand is key for surviving sudden showers.

If you live in a colder climate, don't forget to throw a snow scraper in the trunk and maybe include a few of the kids' old winter coats. If it's hot, pack water bottles or damp towels to help keep cool.

Pack spares

Anything can happen while you're on the road, especially when kids are involved. Having a kit with extra clothes can keep you and your kids looking as though that spill never happened.

Things to include:

T-shirts
Jackets
Shorts
Pants
Socks
Underwear

Think clean

Speaking of spills, keep a stock of cleaning supplies in your car. Having a box of wipes in the center console at easy reach to pass around as needed makes life as a driver bearable during chaos.

The same supplies you use for a drama-free family vacation make life in the driver's seat more comfortable, too. This can include putting a box of basic cleaning items — wipes, napkins, microfiber cloths and paper towels — in your trunk for bigger spills.

Listen up

Download family-friendly playlists or audiobooks to keep kids entertained during the morning or afternoon rush. Most public libraries offer audiobooks for download, but if you're more particular about your reading materials, Audible has thousands of options and is available for a monthly fee.

Many new GM vehicles come equipped with Apple CarPlay® and Android Auto™ services that allow you to easily connect your smartphone, so familiar apps appear on your display screen. This convenient technology provides an easy way for you to play or switch up your media with the tap of a finger.

Graduate to something better

Kids and families are constantly growing, and your car should reflect those changes. If your compact coupe isn't cutting it for your growing clan and you find yourself in need of a third row of seating, it might be time to look into an upgrade.

Whether that means switching to the entire opposite end of the spectrum by getting into a large SUV or simply moving up to a bigger sedan, GM's diverse vehicle lineup offers something for everyone. Check out our Current Offers page to find the best deals on a new ride.
With these carpool survival tips, you should be able to seamlessly drive through traffic, and you might not need that afternoon boost of caffeine — at least not right away.
Looking for more time and money-saving tips? Tap in to our free financial education materials at KEYS® Online.