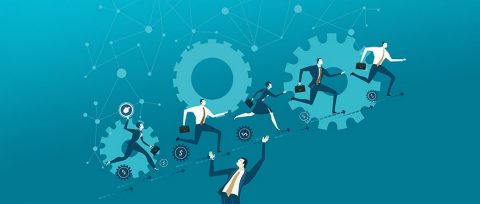 Leveraging Experts for Your Fleet Management Heavy Lifting
As a fleet manager, you're in charge of the vehicles that keep your business running. It's an important job. And it's not easy.  
Fleet managers often find themselves in "survival mode," surrounded by sticky notes, memos, invoices and more — each one a reminder of an action to take or a decision to make.
"A lot of fleet managers find themselves forced to make decisions in the moment, often with incomplete data or information," says Kathryn Gardner, AVP National Fleet Development at GM Financial. "For smaller, simpler decisions, this can be fine, but for larger, more complex ones, it can lead to less-than-optimal outcomes."
If any of this sounds familiar, you're not alone. So what's the solution?
Even experts need experts around
From data analysis to regulatory compliance and everything in between, fleet management is complex. As a result, many fleet managers are often required to remain generalists who know a little about a lot of things.
But they know the value that deep expertise in certain role-relevant areas, like data analysis or maintenance management, could bring to their operating efficiency and results. The problem is that they don't have time to develop it themselves.
The solution? For many fleet managers, it's bringing in outside experts.
"Working with experts who are ready to do the heavy lifting to understand your fleet and business can be one of the best decisions a fleet manager can make," says Kathy. "You don't know what you don't know, and a fresh perspective can reveal all sorts of opportunities and solutions."  
But don't be surprised when a seasoned fleet expert with an outside perspective can spot them quickly and get to work designing and implementing high ROI solutions.
And that's just the beginning.
What to expect from working with experts
When you kick off working with an outside fleet expert, the first thing on the agenda is often gaining a comprehensive understanding of your fleet and its challenges.
"Every business is unique, which means each has its own set of problems, solutions and opportunities," says Kathy. "It's worth investing time at the beginning of the relationship to gain a deep and thorough understanding of where the business is now."
So expect a lot of diagnostic questions about the current state of your business and fleet. Like a doctor recommending treatment for a patient, a fleet expert's questions will help ensure the right problems are identified before precious time and resources are spent toward solutions.
Another hallmark of good outside fleet experts is proactivity. "You don't want someone who just waits by the phone for your next call," explains Kathy. "You want a partner who's always hard at work identifying and solving your most pressing business problems."
It may feel like a big move to bring in outside experts to help optimize your fleet.
But "going it alone" is increasingly risky (not to mention exhausting) in today's data-driven and results-obsessed business landscape.
Once upon a time, access to deep expertise in areas like data analysis, vehicle cycling, fuel and maintenance management, and EV technology may have been a luxury. Now, it's a requirement.
To learn more about how GM Financial's fleet experts could help your business with all this and more, contact us. We're here to help you succeed.