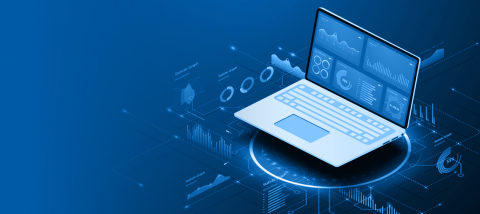 When you think of automation, you may think of physical robots from movies. However, automation includes a wide array of technology, including, but not limited to, Logic Bots, Machine Learning and Artificial Intelligence (AI).
At GM Financial, the Business Automation team removes friction across the global business by automating manual processes. The result is a hybrid workforce where humans can focus on tasks that require critical thinking, creativity and empathy.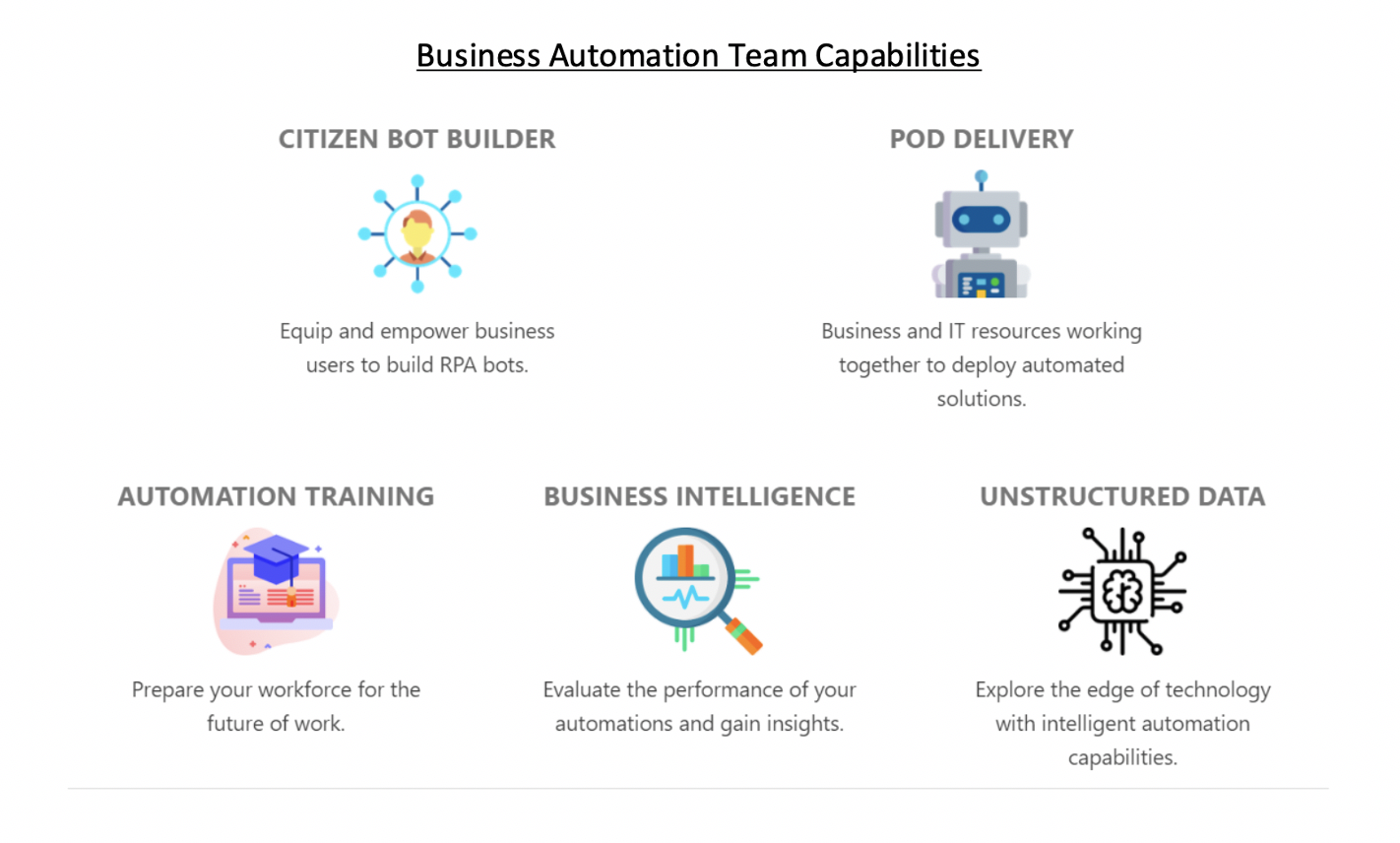 Since February 2019, we've integrated automation into the company culture by automating 5 million manual transactions. Imagine each transaction as a single sheet of paper; the height of papers stacked would be equivalent to the height of the One World Trade Center in New York! The feat of automating manual transactions couldn't have been accomplished without these technology tools.
Robotic Process Automation
Robotic Process Automation (RPA) can be defined as software that automates manual tasks driven by rules and business logic, which enables humans to do more value-added tasks. Software robots (or bots) can mimic human behavior to execute computer-based tasks, but can also interact with databases, Application Programming Interfaces (APIs) and other methods more efficiently than humans.
RPA may sound simple, but it still needs a life cycle plan to move a bot from idea to reality. At GM Financial, we deploy RPA bots using what we call our Pod delivery model, which is an Agile team of business/Information Technology (IT) resources working together to automate a process.
An example of an RPA Pod project was automating our Payment Extensions process, which helps customers going through financial hardships by deferring their payments to the end of a term. The automation was deployed in the beginning of the COVID-19 pandemic and has helped thousands of customers.
The result provided value to both the business and our customers.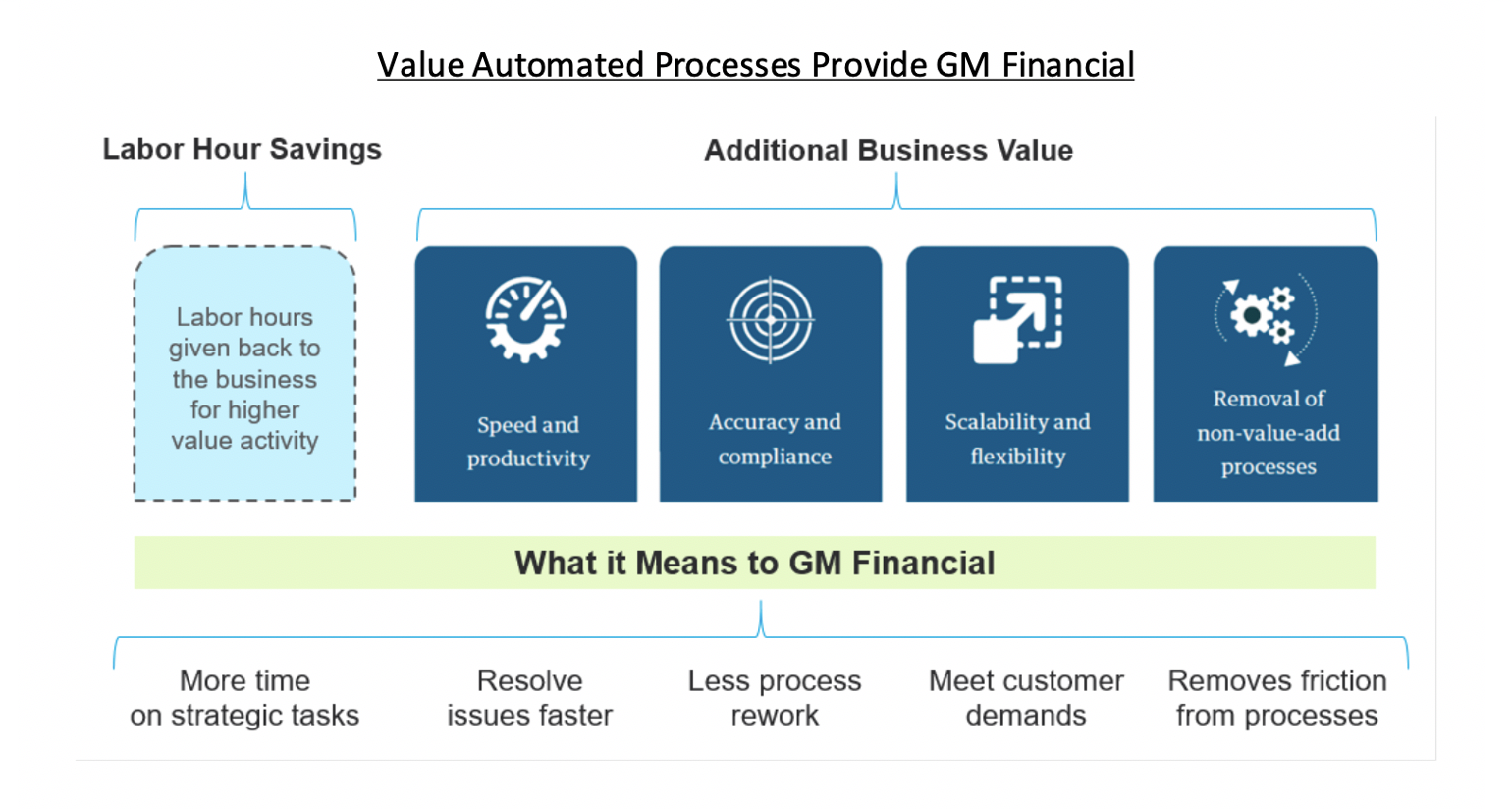 Unstructured data extraction
RPA can only work with structured data; however, the majority of an organization's data is unstructured, meaning it does not have a predefined framework. For example, unstructured data can include documents, handwriting, videos, images, sound and other digital mediums.
An example of unstructured data at GM Financial is receiving faxed documents from our dealer network. The faxes are unstructured and vary in document type and data, while some even have handwriting. Before automation, GM Financial team members would read the documents, extract the needed information and use that information to update accounts. The automation team deployed a technology solution to streamline this process. After the automated solution was deployed, a process that once required up to five minutes of an agent's time now only requires 30 seconds.
Core services and APIs
We've integrated RPA with existing technology to provide innovative solutions for the organization. One such example is notating customer accounts.
Before automation, adding notes to customer accounts was manually time-intensive or required a custom solution. The automation team created a solution that uses an API and exposed the functionality via RPA to team members who needed to make account notations. As a result, we anticipate more than a million automated notations can be made in a year, saving our agents time and allowing them to provide a more personalized service.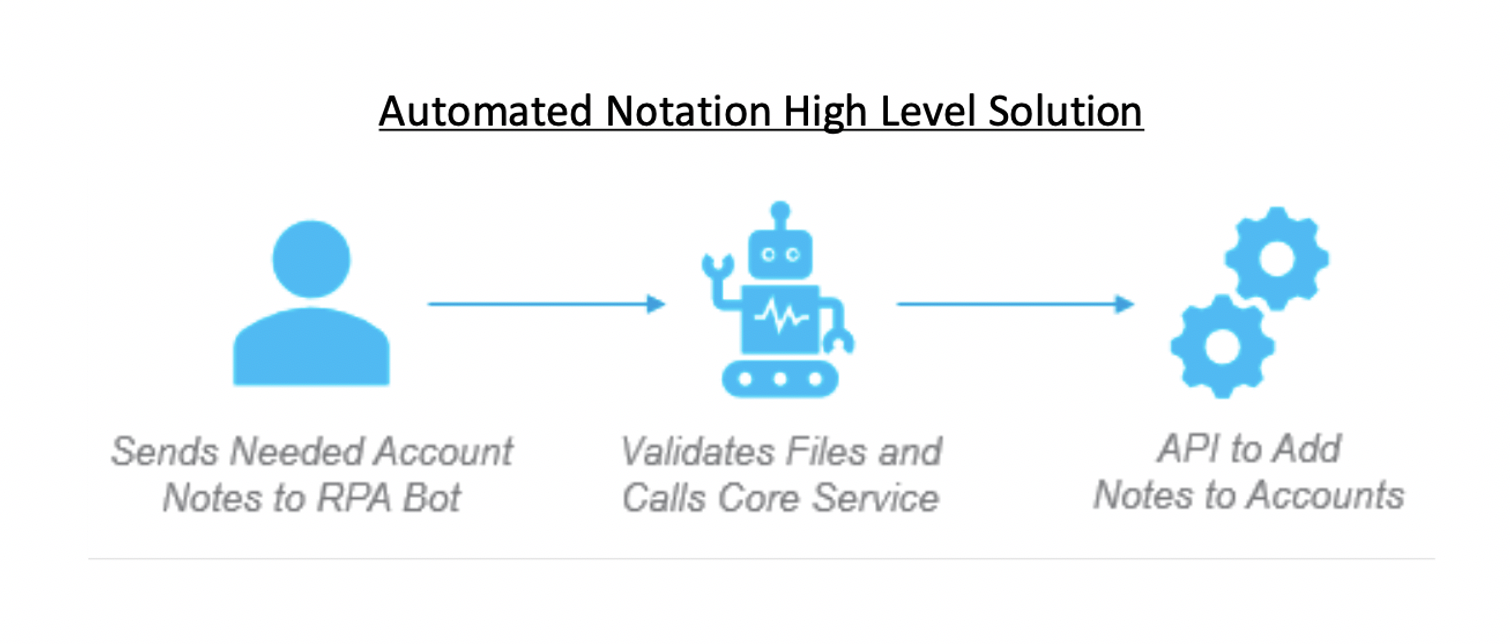 Business integration software
Business integration software is software that allows users to easily integrate processes and data in an enterprise. The automation team used this capability to streamline an anti-money-laundering (AML) process around identifying and safeguarding against identity fraud.
Before automation, compliance agents manually reviewed data to detect potential fraud scenarios, but with the streamlined solution, the automation performs the initial review and sends notifications to the Compliance team of potential true match cases for further processing.
Citizen Bot Builder program
We deployed the above technologies through our Pod model, and we've seen tremendous results; however, how much more innovation could be achieved if nontechnical resources were taught how to automate? This is how the Citizen Bot Builder (CBB) program was born.
The CBB program is designed to allow users to automate processes themselves. The goal of CBB is to equip and empower employees to create automation solutions in their everyday activities. Not only does this create operational efficiencies in how GM Financial conducts business, but by democratizing technology skills, we are helping to create a more equitable future.
GM Financial is still in the early stages of our citizen development journey, but we're adding new users and new automations to the program each month. As we look to the future, citizen-led innovation will play a critical role in our future success.
This is just the beginning of automation at GM Financial. Process insight from our business partners fuels our automation efforts. The examples provided are just a small glimpse into how the Business Automation team provides a benefit to our business partners and, ultimately, to our customers. We are striving for more opportunities to be effective in the way we do business by leveraging new and emerging functionalities of automation.