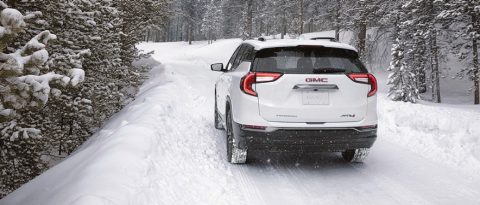 Get Winter Road Trip Ready
Whether it's a national park hiking trip, an ice-fishing excursion or weekend ski adventure, winter road trips are more popular than ever. But before you pack your bags and bundle up, it's important to prepare your car, truck or SUV for any potential wintry conditions.
Use these time-tested recommendations to keep your road trip safe and on the move.
Before you go
Check the area weather

"Cold" for some may be 50 F, while others may not feel a chill until temps dip well into the 20s. Whatever your threshold, check the average weather conditions of your destination to help you plan as you pack your bags. Also, consider keeping a spare blanket or an extra hoodie on hand in case you find yourself stuck in your vehicle and needing extra warmth.

Plot your route

Once you know the weather where you're going, take time to plan out the optimum route to get there and weigh the pros and cons. A heavily traveled highway might slow you down with traffic but may be safer than backroads that could be blocked with snow or aren't as well maintained. For added safety, update your family and friends with your route plans so they can find you in case of an emergency.

Winterize your ride
Taking small steps to winterize your vehicle helps ensure it's ready for wherever you drive. Having your battery tested and a simple tire inspection are just two things you can do for safer travels.
Safety matters
Nothing puts a freeze on your winter road trip like an unexpected snow or ice storm. If you find yourself navigating through one, these vehicle accessories and must-have equipment can help keep your journey safely on track.
Snow tires

Snow tires can make a world of difference when driving in winter weather. Providing better traction and improved braking on slippery roads, they're a great investment that can make your trip safer and keep you confident on the road.

Winter wiper blades

Designed with a protective rubber layer, winter wiper blades are made to keep moving and not freeze to your windshield. They are a must-have if you find yourself driving through heavy snowfall or encounter freezing rain.

Snow/ice brush

Did you know that it's illegal to drive in some states with snow and ice covering your vehicle? A combination ice scraper and snow brush helps clear away the snow making it easier to see. Plus, it can keep you legal and prevent flying snow from your vehicle obstructing the view of other drivers.
Exercise your options
Today's modern cars, trucks and SUVs have many available options and built-in safety features that can enhance both safety and comfort for you and your passengers.
Start the warmup

With just a quick push of a key fob button, drivers with remote start can warm their vehicle for their comfort. Plus, allowing engine fluids to warm before driving can help reduce stress on the most important components that keep your vehicle moving.

Get the assist

There's no substitute for being an alert and attentive driver. But innovative features like blind zone alerts, lane departure warnings and following distance indicators can provide a second layer of safety during winter road trips and seasons beyond.

Go for it AWD

If winter road trips are in your vacation plans, consider purchasing a truck or SUV with all-wheel drive (AWD). Available on many SUVs and trucks, AWD distributes power evenly to all four tires, allowing each to maintain individual traction for safer driving in slushy road conditions. Vehicle drivetrains can either be full-time or part-time all-wheel drive.

If you typically drive in deeper snow or the most extreme winter weather conditions, you can explore four-wheel drive options as well. They usually have higher ground clearance and can be engaged or disengaged at the driver's discretion.
Along with lots of warm drinks, a good playlist and generous snacks, keeping your vehicle winter-ready is the best way to have the ultimate experience during your fun and frosty travels. For more tips and tricks before you hit the frosty trail, find out if your vehicle is ready for winter.