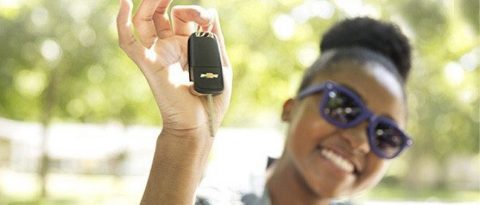 New School Year. New Ride.
As summer's end becomes more apparent, it might be time to get serious about sorting out your car situation. No matter what the school year has in store for you and your family, have confidence as you explore your options.
KIDS GOING TO SCHOOL
If the days of diapers and afternoon naps have turned into ones filled to the brim with theater rehearsals and sporting events, your four-door sedan might not be making the grade. But what's the best fit?
Keep in mind how many seats you need, what technology and safety features you want, and how much car you can afford. If carpool duty is constant, a larger SUV — like a Chevrolet Tahoe or Cadillac Escalade — may be the way to go. But, if you only need a car seat or two, a compact SUV — maybe the Buick Envision — might do the trick. Fall somewhere in the middle? A midsize SUV — like the GMC Acadia — is your best match.
No matter what you have on your plate this school year, there's a vehicle that will certainly hold all of the game day snacks you could dream of, in addition to the kids and their backpacks.
TEENS DRIVING THEMSELVES
When your children are getting close to driving age, it's in your best interest to start the conversation about how they'll get a vehicle and what that will be. Whether they graciously accept the hand-me-down set of wheels you've been driving for a decade or you decide to lease or buy a new car for them, decisions need to be made.
Before signing on the dotted line, there are a few things to consider. Gas mileage, safety features and capabilities like OnStar® can help your new driver navigate the road on his or her own for the first time. It's also important to talk about the responsibilities that accompany getting behind the wheel and guidelines to assist them in becoming a safe teen driver.
Remember to help them research the possible restrictions on their new license. Some states limit the number of passengers for new drivers and others have strict curfews.
OFF TO COLLEGE
The transition from high school to college is a big step, and it might mean a different vehicle is necessary. A fuel-efficient option is perfect for the commuting college kid, while something with more cargo space might be a better fit for a college athlete.
And not all college towns are created equal. Some are more suited for smaller cars, especially those located in communities where parallel parking is the primary option. If that sounds like where your kid is headed, getting a vehicle with park assist and a backup camera could be a convenience worth the money.
Weather is another factor to consider in your vehicle hunt. Moving from a sunny place with only a few bad weather days a month to somewhere that snow is a given might not be suited for your current ride. Do your research on which cars, trucks or SUVs are best for winter weather and have that information fuel your final choice.
SCHOOL THE ROAD
Regardless of the stage of life you're in, transportation needs change. And that includes the need to make sure your car is maintained and serviced on a regular basis. All four GM brands — Chevrolet, Buick, GMC and Cadillac — have special servicing offers that will give you peace of mind just in time for the new school year.
Ready to upgrade? Get started on your journey to a new ride by filling out an online credit application, so you can approach this back-to-school season with confidence and new keys to get wherever you're headed.