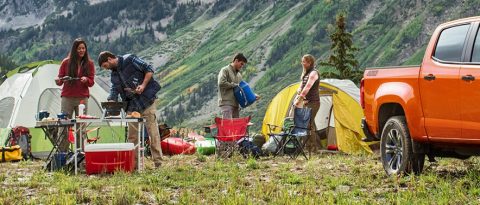 Planning Your Next Outdoor Adventure
The current state of the world has led many of us to turn to the great outdoors as an escape. Whether you're a pro or you're adjusting from a plane-only travel style, these camping tips are helpful before hitting the road.
Make a plan
A little planning now can make for a more restful, stress-free vacation. Make arrangements to keep your life on track when you're away.
If you have pets and aren't taking them with you, make sure you have their care set up.
Take time to set up recurring automatic payments for your vehicle, insurance, mortgage and other monthly bills.
Convert to paperless billing to prevent mail from piling up in your mailbox.
Prep your vehicle
You'll need to do a few things related to your vehicle before you depart.
Make sure your vehicle inspection is up to date and that you have a current copy of your insurance information.
Check your blinkers, brake lights, headlights and wiper blades to confirm that they're off-road ready.
Test your tire tread and pressure, and don't forget about the spare!
Pack right
Savvy campers know it's not about packing everything; it's about packing the right things. In addition to food, camping gear and weather-appropriate clothing, here are some essentials you won't want to forget:
AN EMERGENCY KIT
In addition to some basic first-aid supplies, you'll want to include items such as a flashlight, compass and weather radio.


ROPE AND BUNGEE CORDS
Your gear can shift in transit or get blown around at your campsite, so these come in handy for tethering and tying.


PLASTIC BAGS
Grocery bags are easy to store and highly reusable for collecting trash, keeping items dry in the rain or functioning as makeshift gloves.


SAFETY KIT
In addition to having masks for everyone on the trip, you'll want to have hand sanitizer and wipes to help you stay safe along the way.

Pro tip: Take hand sanitizer out of the car with you when it's hot outside because it can be a hazard if left in heat for too long.


STORAGE BINS
Keeping everything organized helps ensure that once you've taken your gear out of the car you'll be able to fit it all back in when you head home.


LICENSES AND PERMITS
If you're going to be fishing or hunting during your travels, find out beforehand if you'll need a license to do so, and don't forget to bring it along if it is required. Do the same for park permits, reservations or passes.
Invest in add-ons
Consider investing in add-on equipment that makes packing for your camping excursions a breeze. If you are leasing your vehicle, check your lease agreement or ask your dealer whether such modifications are permitted.
Here are six popular add-on options:
A lockable rear cargo box for stashing valuable tools and other items.
A roof rack for strapping on your kayak or cross-country skis.
A cargo carrier for storing all the gear that won't fit in the trunk.
A truck bed or tonneau cover to protect items from the elements.
A bike rack in case you want to tackle the trail on two wheels.
A truck tent for turning your truck into a rolling campground.
Drive smart
If one of the things you'll be hauling on your camping trip is a boat, camper or trailer, you'll need to brush up on the basics of towing. It's not as easy as it looks, and even slight adjustments, like redistributing your load from one side to the other, can affect safety and stability. Here are some towing guidelines:
Choose a trailer hitch that's heavy-duty enough to match your vehicle's gross trailer weight. If you need assistance, your dealership may be able to help calculate what's appropriate.
Practice backing up. (If you want the trailer to go left, you must turn the steering wheel to the right.) It wouldn't hurt to practice in a parking lot before you hit the road for real.
Inspect the trailer every time you stop. Road vibration can cause things to shift, so double-check that the hitch and wiring are still secure. And make sure the tires are still properly inflated and don't get too hot.
If you're leasing the vehicle that will be doing the towing, check your lease agreement to see if adding a trailer hitch is prohibited or not.
Now that you've got your camping essentials all buttoned up, all that's left is picking your dates and destination. Find more ways to plan the trip of a lifetime by determining your road trip personality.