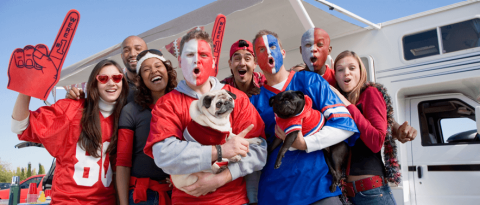 3 Game Day Hacks to Upgrade Your Tailgate
Fall is in the air, and you know what that means: temperatures are cooling down and football competition is heating up. And while you can't control what happens on the field, you can make sure your pregame celebration kicks off the day on the right foot.
Here are some tips on how to use your GM vehicle's high-tech features to win the tailgate.
Get there with OnStar® Navigation

Find the stadium in record time with OnStar Turn-by-Turn Navigation. If your vehicle is equipped with OnStar, just press the blue OnStar button and the Advisor will program step-by-step directions into your vehicle. No more circling around trying to find the parking lot! Getting to the venue early allows you to set up camp in a prime spot.

Get connected with Wi-Fi Access

Quickly become the most popular car in the parking lot when you turn on your in-car Wi-Fi hot spot. Gain unlimited access to your favorite music, connection to the internet for last-minute grilling directions and live updates on other games happening around the country.

The best part? Up to seven devices can connect at a time, so everyone in your party can join in on the action. It's the ultimate addition to your 21st century game day.

Stay powered up with in-vehicle charging

Mapping directions to the stadium, playing music and snapping photos for social media are all essential for your pregame celebration. Unfortunately, these activities can take your phone battery from fully charged to zapped in almost no time at all.

To combat this, make sure you take advantage of your car's USB charging ports. Many GM trucks also include traditional three-prong outlets to power your favorite home appliances — including your TV and crockpot — to keep the crowd entertained and fed for hours before the game.

Need to upgrade your ride to upgrade your tailgate? Check out our current offers page for the latest deals on GM vehicles.