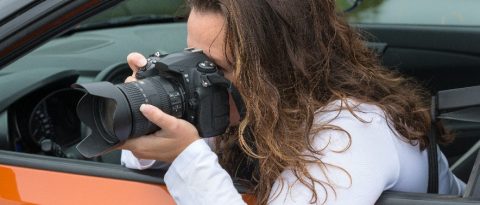 Social Distancing from the Driver's Seat
Social distancing has become part of the new normal, but that doesn't mean you can't be creative when it comes to celebrating some of life's biggest moments.
We reached out to see how GM Financial team members have used their cars to make daily life more interesting. Here are a few of our favorite stories.
Celebrating Students and Teachers
The end to the 2019-20 school year was far from ordinary. But that didn't stop people from celebrating their accomplishments.
A social media team member celebrated a middle school teacher who was named Teacher of the Year with a parade. He joined a line of more than 20 cars, as they drove past the award-winning teacher's home to congratulate her in surprise party fashion. She was blown away!
One team member shared a story about her daughter's high school graduation. They had each graduate line up in alphabetical order and drive by the school to emulate the pomp and circumstance you'd expect. Students had signs on their vehicles with their name to ensure everything ran smoothly, and it truly felt like a "normal" graduation.
Photo Shoot from the Car
While a lot of us have quite literally been living in sweatpants and comfy T-shirts, others are dressing up for a different reason — the new normal drive-by family photo session.
Local photographers set up photo shoots for families in nearby neighborhoods, taking photos from their cars or front lawn. After a few hundred frames of kids and parents alike playing and striking a pose, they concluded their quarantine shoot.
The end result? Updated family portraits that put smiles on the faces of everyone involved.
Parking Lot Socials
When your favorite meetup place is closed and you still want to hang out, you have to go with the next best thing: the parking lot. A Corporate Wellness Specialist parked near her group of friends with drinks and snacks as they sat in their trunks and tailgates — 6 feet apart.
They chatted about their lives in quarantine and used the time to catch up like they normally would. While this gathering looked a little different, it was just as fun.
Drive-Thru Safari
No zoo? No problem. One of our Communication Managers loaded her family into the car to go on a drive-thru safari.
Instead of walking around, they were able to drive as they saw all sorts of animals from the comfort and safety of their car. It felt like a safari with llamas, camels and zebras right outside their windows. They created a playlist to accompany their adventure and even got to feed buffalo from a cup.
"We were able to snap a ton of photos and created several memories that day," she said. "Getting creative about our outings has been the most interesting part of this social distancing experience. Who knows where the next adventure will take us?"
We're happy to see that our team members are making the most of uncertain times and finding ways to keep life interesting.
Have you experienced a time your vehicle helped spread joy, excitement or even provided a respite from the monotony of quarantine? We'd love to hear from you.