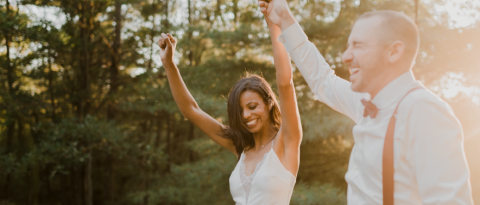 6 Tips for Budgeting as Newlyweds
Gone are the days when newly married couples automatically merge bank accounts and designate a single breadwinner. That's why it's so important to talk with your partner about how you spend, save and allocate your money before you say "I do."
It's no secret that sharing your money matters with others can be stressful. So, as you make plans to tie the knot, we gathered six tips for budgeting as newlyweds that can help you and your spouse get on the same page.
Open up about finances. Some couples determine that combining bank accounts help them achieve their goals faster. Others, however, may find that their different money management styles work best with separate accounts. Either way, open communication with each other about your spending and saving habits will be key to managing your finances together.
Share your credit history. If you haven't already, you and your spouse can each request a free copy of your credit report at annualcreditreport.com. The report will not include your credit score, but any of the main credit reporting agencies — Equifax®, Experian™ or TransUnion® — can provide that for a fee.
Write down financial goals. Still paying off student loans? Or maybe you're trying to save for a down payment on a house or vehicle. Whatever your financial goals, write them down and discuss what you and your partner can do to reach these goals together. For example:
Design a budget. Our free family budget worksheet can help you and your spouse take an honest look at your incoming funds and outgoing expenses. You'll only get a true picture of your finances if you share with each other how much you earn, save and spend (including impulse purchases and every cup of coffee). Track your money carefully and adjust your spending based on your lifestyle and your shared financial goals.
Start an emergency fund. In addition to savings, it's a good idea to put money into a designated emergency account. The Federal Reserve shared that about a third of people surveyed could not cover a hypothetical $400 unexpected expense. Six to eight months of living expenses can help cover unexpected costs, such as medical bills or job loss, without going into debt.
Plan for your future. Retirement may seem like a long way away, but the earlier you start saving, the more likely you'll reach your retirement savings goals. See if your employer offers a 401(k) savings plan or other retirement savings option.
Now that you've committed to each other, commit to managing your newlywed budget as a team. It'll be easier to stay on track when you work together. Visit KEYS® Online for more savings and retirement information.