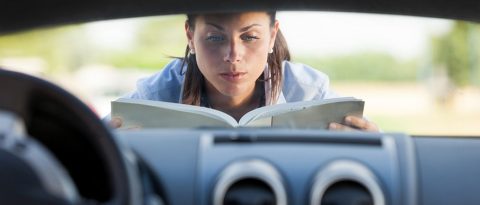 Over a year ago, I excitedly drove off the lot in my new vehicle. The steering seemed tighter, the brakes were more responsive and the leather interior smelled terrific.
The sales representative helped me set up Apple® CarPlay (even though he was more familiar with Android AutoTM), but I forgot to ask for the full "bells and whistles tour" of the adjustments and controls.
Challenged to get the most out of my vehicle, I explored ways I could learn more about my new car's technology, connectivity and features. Here's what worked for me:
Crowdsourcing. Talk to your friends and family members to see what features they love about their cars. From how to connect your phone to Bluetooth® to starting your car remotely, it's a great place to begin your research. If your brother can't live without his vehicle's mobile app, for example, see if your vehicle offers the same feature and learn how to use it.
Online research. Most vehicle manufacturers — like Chevrolet, Buick, GMC and Cadillac — have a website and mobile app that include an owner center. That's where you'll find valuable resources, like how-to videos or tutorials, specific to your make and model. Watching a two-minute video about how to access the integrated navigation system now might save you time when you're driving in unfamiliar territory.
Owner's manual. Every new vehicle comes with an owner's manual, although it often comes home in the glove compartment and stays there for as long as you own the vehicle. If you purchased a pre-owned model, you may be able to download an owner's manual from the manufacturer's website. It's a great source for specific directions on how to set memory seats, adjust climate controls and even program the garage door opener.
There's no better time to get to know your vehicle. Start exploring today and see what you can learn.