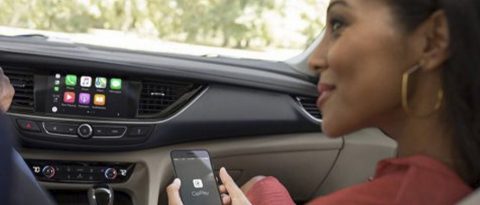 The Convenience of a Connected Vehicle
Whether you're on your daily commute or a long road trip, connected car technology provides you with a convenient driving experience. If you want to know what features are available across GM's lineup, here are some of the latest ones you might have missed:
Infotainment
Apple CarPlay® and Android Auto™ are integrated into most GM vehicles, and each year brings new additions to the convenience of these systems. Both provide GPS access that can track gas stations, fast-food chains or parking lots on the way to your final destination. With an electric vehicle, you can use the GM app to find the nearest charging station.
GM vehicles also have connection capabilities to podcast, audiobook and music-streaming services. Long gone are the days of tiresome travel now that jamming to your favorite morning playlists has never been easier.
Distraction-Free
Features such as the head-up display (HUD), which can project your car's speed, navigation instructions and energy consumption onto the windshield, can help you stay focused on the road.
If you drive an electric vehicle, the HUD can also notify you of the car's battery level or its remaining estimated range. Most new, base-model vehicles now come with interactive digital interfaces designed to limit how long you spend looking at the screen, so you won't be distracted by a clutter of vehicle metrics in front of you.
Voice Operated
In addition to the convenience of safety-first interfaces, many companies offer in-car voice assistants that allow you to control your car systems, book reservations at restaurants and repeat directions.
Using voice-operated technology keeps your hands on the wheel and eyes on the road while offering safer and more efficient control during your commute.
Safety Alert Mechanisms
Speaking of driver safety, connected car technology has improved how you can reduce danger on the road. The National Highway Traffic Safety Administration's research notes that connected vehicles could help decrease 80% of crashes by unimpaired drivers.
Drive an electric car? EVs benefit from even quicker response times and improved precision. From significant developments in automatic emergency braking to lane departure warnings, these alerts to potential crashes can prevent tragedies and save lives.
Phone Connectivity
Technology doesn't stop in the front seat. Through mobile apps, you can take convenience wherever you go. GM offers a personalized experience through its brand-specific apps for your mobile device. Each one allows you to track the mileage of your vehicle, the gas in your tank, its location and tire pressure.
These apps also serve as an extension of your key fob, so you can lock, unlock and start your car. Also, if your car needs repairs, you can schedule an appointment at your closest GM service center.
Financial Resources
In addition to the branded apps specific to your vehicle, GM Financial has a mobile app to manage your account, pay your bill or message us from anywhere. Download the GM Financial Mobile app from the App Store® or Google Play™ Store to dive all the way in to the ownership experience.
With new connected technology emerging at a rapid pace, your driving journey can be safer, more efficient and enjoyable.