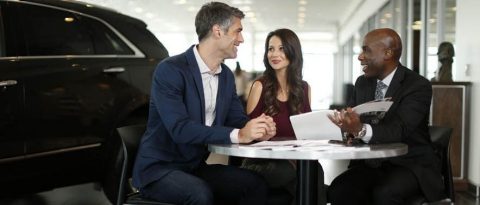 Your Top Lease Questions Answered
Already dreaming of your next lease and wondering how the lease-end process works? What about your payment options? We've got you covered. Below, find answers to the most frequently asked questions about leasing.
What happens at the end of my lease?
As your lease end approaches, that doesn't have to mean the end of the road in a GM vehicle. The GM dealership where you leased your vehicle is a great resource for answers about lease end. As you plan your next move, keep these options in mind:
Return the vehicle to your dealership
It's never too early to see what's available, so start exploring our new vehicle offers. Prepare some questions for your test drive and schedule a visit to your GM dealership.
Purchase your leased vehicle
Love your ride? You can purchase your leased vehicle at any time during your lease period. Contact your dealership to discuss purchase or finance options.
Turn in your vehicle
When your contract ends, return your leased car, truck or SUV to your dealership. Make an appointment with the dealership so they're ready for you and bring your owner's manual, extra set of keys and any accessories that came with the vehicle.
See more information on our lease-end options page.
Why do I need a lease inspection?
A pre-return inspection within 90 days of lease end can help you get a full picture of your vehicle's condition before turning it in. This includes things like excess wear and use or mileage charges.
For example, if your lease is about to end, you can schedule this inspection at your dealership or at home or work for convenience by visiting AutoVINLive.com. You can also contact us through MyAccount, text* LEASE END to 53721 or call us at 1-800-284-2271.
Will I owe anything at the end of my lease?
No matter which option you choose, you may owe additional amounts at lease end; see your lease agreement for details. Unless you purchase your current vehicle, you may also be responsible for excess wear charges, mile overages or disposition fees. Excess wear applies to any damage to the vehicle that's more than normal, and mileage overage is just that — paying for any miles beyond the contracted amount. The disposition fee is a flat fee that is outlined in the lease agreement, is charged to all GM Financial lessees and covers the costs of preparing the vehicle for resale. Keep in mind, if you buy or lease a new GM vehicle or exercise the purchase option in your lease agreement, this fee may be waived. Review your contract for more information on which fees might apply.
What are my payment options?
You can make free and convenient online payments direct from your bank account at any time. Or, you can log in to MyAccount to set up free recurring payments to automate the process.
Other payment options include:
Pay by debit/ATM card
Pay by credit card
Pay by mail
Pay by phone (automated phone system or agent-assisted options available)
Pay by cash
Find out more details and applicable fees on our payment options page.
Am I responsible for fees like tolls and tickets on my leased vehicle?
Yes. You are responsible for any applicable tolls, tickets, property tax or fees assessed during your lease contract. GM Financial will add the charges from any notices we receive to your monthly billing statement with a copy of the original bill. If you do not receive a monthly billing statement, you will receive a separate bill to take care of the balance.
Pro Tip: Toll tags can simplify this process by billing tolls directly to you instead of GM Financial.
Have more questions? Visit our FAQ page or log in to MyAccount to message with a Customer Advocate.
*There is no charge from GM Financial, but message and data rates may apply.