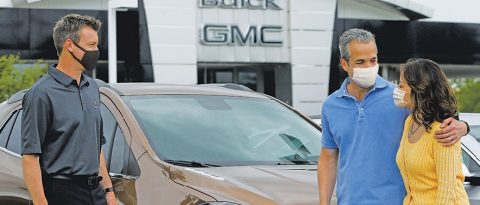 Reasons You Should Lease Again
With the end of your lease in sight, it's time to start deciding what you want to do. The choice depends on what best fits your lifestyle, but there are a few key benefits to getting into a new GM lease.
Loyalty rewards
Leasing a new GM vehicle may be a great way to save some cash. Not only are lease payments typically less than monthly retail payments, they also let you reap the benefits of your loyalty.
For instance, you can earn points toward the My GM Rewards program. Leasing a new GM vehicle alone will earn you 20,000 points, which can be redeemed for anything from car accessories to OnStar® services. Also, your dealer might be able to offer further incentives depending upon your lease situation.
New technology and safety
There's nothing quite like that new car smell, and leasing means you get to experience that more often. This benefit is especially helpful if your needs have changed since you signed your last agreement.
Is the four-door sedan you leased two years ago not cutting it for your growing family anymore? A new lease gives you the freedom to explore other cars, trucks and SUVs that might better align with your life with just a 24- or 36-month agreement.
Plus, since car technology changes so quickly, it's likely that you'll still be making payments and not able to enjoy the latest technology with a traditional car loan. As a lease customer, however, you can take advantage of the newest technology every few years without having to invest in buying a new vehicle.
That means all of the safety features, from lane change alerts to phone notifications on your dash, are available to you. And when a new safety or technology feature becomes available, you can be one of the first to take advantage.
Lease-end decision
Lease end doesn't need to be stressful, though. Your dealer can guide you on your options to help determine the best one for you. Then, you can choose to get another GM lease, buy your leased vehicle or turn your vehicle in. Remember to keep an eye out for the latest offers, too.
For example, pull-ahead offers give you the freedom to get out of your old lease earlier than originally planned and include financial benefits, meaning you can get into your new lease sooner.
Next steps
When it comes to getting behind the wheel of your next car, the option to lease or buy is yours.