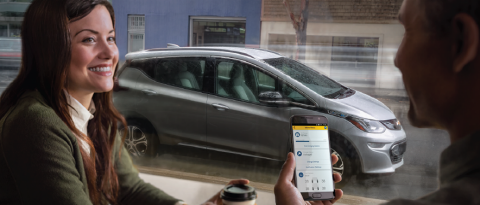 Technology That Drives You
Today, you're more connected to the world around you than ever before. And now, that applies to your vehicle, too. Fully equipped as a mobile office on wheels, your next new GM vehicle is something to show off for a number of reasons.
Smart home, smart vehicle
You can't afford to lose your focus on the road, and similar to a smart home, you can access essential features by voice command. Connecting your phone into your vehicle and syncing up with your infotainment system via Android AutoTM or Apple CarPlay® is a great way to keep your attention where it should be while still accessing the essential functions on your smartphone like music, phone calls and navigation.
Safety first
You're cruising along, and you prepare to switch lanes. Suddenly, you realize a truck has sped into your blind spot, and you have to react quickly. It's a common occurrence that can be scary and dangerous. Thankfully, many GM vehicles feature blind-zone alerts, lane departure warnings and forward collision, as well as rear parking assist to help keep drivers safer. Being aware of your surroundings is job No. 1 when driving, and the latest car technology from GM aims to make that job easier.*
Remote control
On a cold day, wouldn't it be great if you could start your vehicle before you leave the grocery store? The RemoteLink app from OnStar® and GM brand apps help fix everyday inconveniences like having to get into a cold vehicle or not knowing your tires need air before it's too late. Download the apps in the App Store® for Apple and Google PlayTM store for Android today.
Stay connected
In-vehicle Wi-Fi with 4G LTE is part of the auto technology package on many GM vehicles, so streaming is easier than ever. Keep the whole family sane during road trips or stay connected with work on the go.
Wireless charging
Charging your smartphones in your vehicle is an automatic for many drivers. Some models feature charging mats that allow for wireless charging. No more family feuding over who forgot to pack the right charging adapter.
A plugged-in world
Electric vehicles are the future of driving, and the future is now. GM is working toward its initiative to develop at least 20 electric vehicles by 2023 with the announcement of the GMC Hummer EV and the Cadillac Lyriq. New developments in autonomous, self-driving vehicles are also on the horizon, meaning driving experiences may look intriguingly different in the next decade.
*Remaining attentive to traffic, surroundings and road conditions at all times is a driver's responsibility, regardless of additional safety features. New technology is never a substitute for operating the vehicle in a safe manner. Read the vehicle's owner's manual for important feature limitations and information.
Features not available in all vehicles.