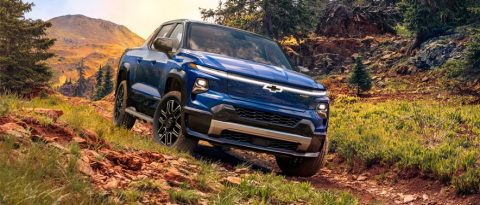 Investing in Our Planet for a Better Tomorrow
I recycle, bring my own shopping bags (when I remember them), use biodegradable products and do my best to use less plastic. My hope is that, by taking small steps each day, I can help to create a better tomorrow.
That's part of the sentiment of Earth Day. Celebrated annually on April 22, the day centers on encouraging individuals to make an impact for a cleaner environment and a more sustainable future. This year, the theme of Earth Day is "Invest in Our Planet," encouraging the notion that a greener future can lead to a more prosperous future.
When I was younger, my dreams involved flying cars; now, our reality includes electric vehicles (EVs) with self-driving, fully autonomous vehicles just around the corner. I often find myself asking things like, "What will our roads look like in 10 years? How will we travel? What will my future car be like?"
By considering the future, Earth Day inspires individuals and companies to come together and form a partnership for the sustainability of the planet. General Motors (GM) is one of those companies.
Charging into the future
In 2020, GM announced its vision of a world with zero crashes, zero emissions and zero congestion. With a strong focus on the environment, GM is advancing an equitable and inclusive transition to a carbon-neutral future.
"We can and will work with others across the industry, and beyond, to expand scale, increase investment in electrification, accelerate customer adoption and get more EVs on the road," said GM President Mark Reuss. "We want to put everyone in an EV, and we believe we're the best company to do it."
In focusing on a greener future, GM will:
Commit to equitable climate action. How GM transitions to an all-electric future is important and its solutions must be inclusive. Last year, GM announced its Equitable Climate Action initiative to ensure the transition to an all-electric, carbon-neutral future is an inclusive one for GM's current and future workforce, customers and communities that may be more likely to disproportionately experience the effects of climate change. This initiative is rooted in four key areas: the Future of Work, EV Access, Infrastructure Equity and Climate Equity. As part of the Climate Equity principle, GM has pledged $50 million through the Climate Equity Fund to help close equity gaps in the transition to EVs and other sustainable technology.
Utilize a revolutionary EV platform. From luxury and performance cars to pickups and SUVs, the Ultium Platform will power EVs with zero tailpipe emissions at every price point for families, work, adventure and performance.
Invest in the future of electric vehicles. GM aims to invest $35 billion in EVs and autonomous vehicles through 2025, helping to support more than 1 million units of EV capacity in North America to respond to growing demand.  
Many of us are still learning about EV technology and how it will ultimately change our lives. It's hard to imagine what the world will look like in the next 10 years. But with a greener future in mind, GM will continue to advance its vision for a zero-emissions, all-electric future while prioritizing climate actions that are inclusive to its current and future workforce, as well as within our communities.
As more EVs roll off the line, each one demonstrates GM's dedication to creating a range of EVs accessible to everyone. Just like me, the company is on a mission to make a meaningful impact toward a better future.