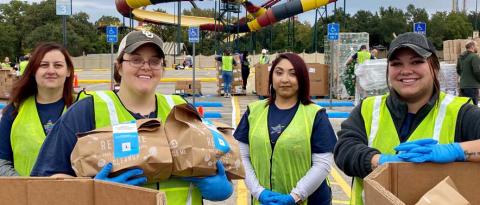 Too Busy to Give Back? Think Again!
Chillier weather, the sweetest treats and time with family and friends make for great memories this time of year. However, it's also the season of giving.
Here are some ways to get the most out of your charitable efforts to end the year on the right note.
Find your passion
Whether it's children's education or animal adoption, there's likely a charitable cause for what drives you. And there's nothing more rewarding than supporting a cause you believe in. Take time this holiday season to do just that and reap the benefits for you and those you help.

GM Financial has been contributing to The Salvation Army's Angel Tree efforts for the last 18 years. Each holiday season, names and wish lists of children and adults in need are posted on trees throughout our facilities. Participants select an Angel to sponsor and fulfill their wish by donating items that The Salvation Army passes along to the recipients.
Volunteer your time
If you find yourself wanting to do some holiday good this season but don't necessarily have the cash to back it up, consider volunteering. From sorting clothes to serving meals, your time can be as powerful as money and make a difference in the lives of others this holiday season.

GM Financial team members spend time volunteering throughout the year, as individuals and in groups to ensure we positively impact the communities we live and work in. It's especially important now as The Salvation Army is preparing for its annual Angel Tree event.

Make it a priority
With holiday parties, gift shopping and travel plans, it tends to be a crazy time of year. However, it's important to follow through with your charitable efforts. To help stay on top of everything this holiday season, block off time to volunteer or add an Angel Tree gift to your shopping list.

Last year, GM Financial employees across North America donated more than 2,000 gifts to The Salvation Army's Angel Tree program. This year, we plan to donate even more.
Every Bit Counts
At the end of the day, the holidays are about appreciating what you have and helping those in need. No matter how you choose to give back this holiday season, know your efforts are appreciated.