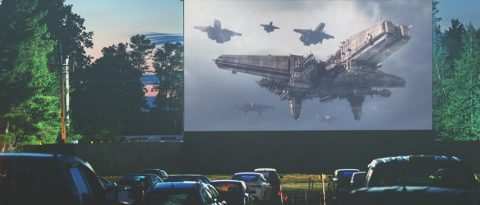 Why You Should Plan a Night at the Drive-In
Imagine you're cozied up with a blanket and have your feet resting comfortably on the dash, all while enjoying the latest movie release on the big screen. Add a yummy beverage and movie theater popcorn, and you've got yourself an unbeatable night.
Drive-in theaters have made a comeback and are sweeping the nation as a safer, more comfortable entertainment experience. Let's take a walk down memory lane to explore their history — then and now.
1930s and '40s: The beginning
The first patented drive-in was opened on June 6, 1933, in New Jersey by Richard Hollingshead. He viewed the drive-in as a solution for making theaters more comfortable by avoiding indoor theaters' small seats and noise from other moviegoers.           
His idea took off and revolutionized the moviegoing experience. Everyone from teens to families made their way to the drive-in to watch the latest releases, snacks in tow.
1950s and '60s: The golden age
Largely considered the peak of popularity, the '50s and '60s saw drive-ins become a staple associated with the times. With more than 4,000 to choose from in the U.S., there was likely one within a reasonable distance from home.
Flexibility was a huge perk. Parents having the option to bring their baby with them on their date night, without the risk of frustrating an entire theater of paying customers, was a huge draw. And access to the outdoors made socializing an easy pastime during intermissions.
1970s: Closing down
In the '70s, drive-in theaters lost some of their magic. What was once cool and trendy became old and dated to teenagers looking for an exciting way to spend their evenings.
That coupled with the creation of smaller vehicles, which made sitting in them for a whole movie less comfortable, and higher gas prices, forced most theaters to close their gates. At the time, it seemed as if regular, indoor theaters were the future, especially since they were guaranteed to show the movie, even if storms rolled in.
2010s and 2020s: The resurgence
Fast-forward nearly 50 years and drive-in theaters have made a comeback. With their unmatched aesthetics and the pandemic-friendly distance between cars, it's not surprising they've been on the rise again.
And, amid the pandemic, drive-in comedy shows and concerts have become the norm. Attendees can be entertained from the comfort of their vehicles, while also remaining a safe distance away from others.
Plus, modern technology makes drive-ins that much better. Cars, trucks and SUVs all have technology features that make the experience more enjoyable than it was decades ago. From in-vehicle Wi-Fi that makes staying connected easy to fold-down seats that let you lie down to watch your chosen film, you'll get the most out of your movie.
Ready to head to your local drive-in and join the history of it all? A quick search online or in the GPS app on your phone can help you find one nearby. And check out these other ways to take advantage of summer night drives while you're at it.