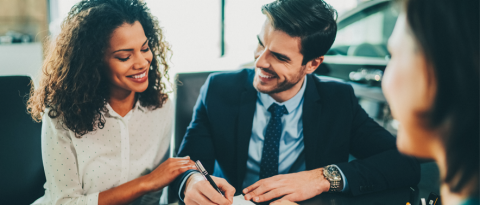 Understanding Your Vehicle Retail Contract and Lease Agreement
After you've decided to lease or buy, signing the paperwork doesn't have to be intimidating. In fact, there are common words and phrases found in contracts that you can learn even after you've made your deal that can help build your confidence. Here are a few of the terms you can look for to better understand the paperwork.
Examining a vehicle purchase finance agreement
Retail Installment Contract. Instead of your paperwork being called a "car loan," you may see it labeled as a retail installment contract. Ultimately, this type of contract allows you to purchase a vehicle from a dealership and agree to make payments in monthly installments to a finance company like GM Financial.
Truth in Lending Act (TILA). According to federal law, your auto financing contract must include written disclosures about important terms of credit like the following:
Annual Percentage Rate (APR): The cost of your credit as a yearly rate. This rate is then applied to the amounts financed using the simple interest accrual method.
Finance Charge: On GM Financial contracts, this is the total amount of interest charges you'll pay over the length of your contract if every payment is made on time according to your payment schedule.
Amount Financed: The amount you're financing to purchase your vehicle.
Total of Payments: The total cost to buy your vehicle on credit, plus your down payment.
Itemization of Amount Financed. This section of your contract will list the expenses that add up to the total amount of money you're financing, including the cash price of the vehicle. You may also see the amount you put toward a down payment and/or your trade-in value that reduces the amount needed for financing.
Additional Protections. These are items that you can roll into the purchase of your vehicles, like service contracts to cover the cost of predictive vehicle maintenance or Guaranteed Asset Protection (GAP). In the event your vehicle is damaged, stolen or destroyed before you've paid off your contract, GAP can help cover the difference between how much you still owe and how much your vehicle is worth.
Extended Protections. Each GM brand offers seamless coverage and benefits that continue even after your new-vehicle warranty expires.
Understanding a vehicle lease agreement
Leasing Disclosures. Often found at the top of your paperwork, leasing disclosures will include details like the amount due at signing and your monthly payment schedule.
Disposition Fee. This is a flat-rate fee charged to lessees after returning their vehicle to cover the cost of preparing it for resale. You might find this listed under a section like "Other Charges." GM Financial may waive your disposition fee if you choose to lease or buy another GM vehicle or purchase your current vehicle at the end of your lease. Check your contract for details.
Limitations or Restrictions. This section of the lease agreement may include an explanation of excess wear, early termination or the number of miles you can drive your vehicle without paying an extra charge.
Excess wear. Standards are listed in your lease agreement. Any wear to the vehicle that is not excessive is considered acceptable.
Insurance Requirements. The type of auto insurance and amount required for your lease will be listed on your agreement. This will vary from lease to lease.
These terms can help you better understand what you're signing when you buy or lease a new vehicle. Ready to start the process? Check out our current offers or apply to prequalify.