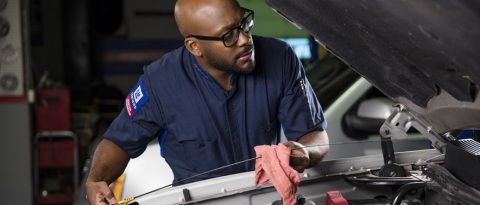 Car Care: Quarantine Edition
It's relatively easy to stay on top of car care when you're driving every day. But when you're not, it can become an afterthought. Personally, I don't even recall how long ago I had my last oil change, let alone if I'm due for another one.
Here's a checklist to help you remember how to prolong the health of your ride during the pandemic.
Every week
Go for a spin: If left idle for too long, the lifetime of your battery can greatly diminish. Load up the car with your family or hit the road solo to keep your car's battery in working condition. Also, use your weekly drive to see if your vehicle sounds or feels unusual. If it does, schedule maintenance at your local GM dealership.
Quick cleaning: Even if you're not behind the wheel every day, you still want to keep your car clean. Creating a habit of removing trash and sanitizing on a weekly basis will make for a better driving experience, and your car interior will thank you.
Use your vehicle's app: The beauty of modern technology is convenience. Log in to your MyChevrolet, MyBuick, MyGMC or MyCadillac app for insights into how your vehicle is doing. You can find your tire pressure, oil health and fluid levels on the apps if your car is compatible, all from the comfort of your couch. Win-win.

Pro tip: Take advantage of the free OnStar® diagnostic report that details any service that needs to be done to your vehicle for even more knowledge.
Every month
Fuel up: Regular trips to the gas station and improving your fuel efficiency might not be top of mind, but that doesn't mean you should be writing them off altogether. In fact, gasoline can expire in your vehicle in as little as a month due to oxygen exposure. And, if left longer, it can deteriorate, and possibly damage, parts of your vehicle's fuel system. Make your weekly drive a little longer at least once a month to hit the gas station.
Inspect your tires: The average vehicle weighs over a ton, and all that weight can cause damage to tires when they're left sitting in the same spot. To keep your tires in tiptop shape, keep an eye on them to make sure nothing looks off, and continue to rotate them at your normal cadence. Remember that a shift in temperature can affect tires, too. Whether it's part of your tire check during the summer heat or when you're getting your car ready for winter, safe tires are key.
Check oil: While your owner's manual provides insights into how often you'll need to change your oil, it's easier to forget than you'd think when you're not driving as much. Remember that oil changes can be based on either mileage or time, so set a reminder to make sure you have plenty of time to schedule maintenance before you need a change.
Every few months
Verify vehicle registration: Driving with expired registration is against the law, so you'll want to stay on top of it to avoid a possible ticket. If your vehicle is newer, you can update its registration online. If it's older and falls out of the online registration eligibility, you'll want to schedule an inspection prior to its expiration. Each state has its own regulations with registration, so visit your state government's website to get complete details.
Check coolant levels, wiper blades and air filters: Whether it's zero or 100 degrees where you live, you want to be able to control the temperature of your vehicle. While these items don't need to be changed as often as the oil in your car, coolant levels and air filters contribute to the overall comfort of being on the road. And, to be ready for a variety of weather conditions, make sure your wiper blades are in good condition, too.
Stay insured: You might be tempted to save money by ditching car insurance while you're driving less. Remember that leased vehicles require insurance whether or not you're hitting the road, and accidents can happen, even when a car is parked. Foregoing insurance might save you money in the short term, but it's better for your vehicle and your wallet if you keep your coverage.