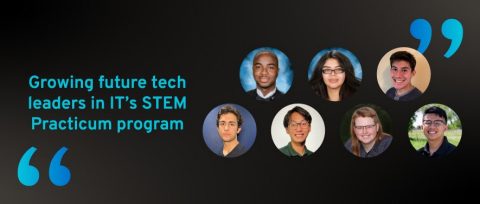 Growing Future Tech Leaders in IT's STEM Practicum Program
Editor's note: A version of this story was originally authored by Lacey Riley and published on GM Financial's intranet site, The Hub, on June 3, 2022.
Can you imagine where you would be in your career if you had the opportunity to gain real-world experience in a corporate environment before graduating high school? What if you were able to get a taste of the career path you had dreamed of taking when you were still a teenager? 
GM Financial's IT team based in Texas offers this type of early career growth opportunity for high school students in the Arlington Independent School District (AISD). The IT team teamed up with AISD to create GMF's IT STEM Practicum in 2017. The program's purpose is to provide AISD Career Pathway students the opportunity to gain valuable, practical, hands-on employment experience.
The students, program leaders and IT peer mentors haven't missed a beat when it comes to making this program a success. GMF team members involved in the program advise students in their practicum and assign them work just as they would any other IT team member. This year, IT sponsored seven students from three different high schools in the AISD. To date, 17 students have worked with GM Financial IT as part of the IT STEM Practicum.
AISD 12th grade students must apply and be admitted to the AISD program. Students must complete technical IT prerequisite courses offered by AISD to qualify for placement. They submit résumés, cover letters and references for their practicum specialist to share with potential employers. 
"Once the students are accepted into the AISD program, they become viable candidates for employers across DFW," said Rhonda Jaynes, GMF IT STEM Practicum program manager and Lead Instructional Designer – IT Services. "I send the practicum specialist a list of technical skills, competencies and leadership qualities we want the students to possess. AISD provides me with résumés of qualified students, and I funnel those to our leaders. We schedule professional interviews with each of the students and make a hiring decision. These high school students go through the same interview and onboarding process any new GMF employee would."
During the program, students gain valuable work experience and earn industry-recognized badges and certifications, such as the IBM Design Thinking, Azure 900 Fundamental and Bot Developer, that will propel their careers and knowledge. The students participate in a practicum development plan as well, each month working on topics related to their personal development, business acumen and general engagement in the community, led by IT team members. The students complete the program with a presentation to their peers, team leaders, team members and IT senior leadership on their experience and what they have learned through this program. 
"If I had the opportunity to have real-world experience in corporate America before finishing high school, it would have given me a chance to assess the 'real world' prior to launching into what I believed was my career choice," said Ida McKinley, Senior Vice President, IT Services. "As a high school student, I wouldn't have had the pressure of deciding a career and could have observed various career options with youthful eyes."
"It would have given me the opportunity to see various professions in action and gain perspective on what truly motivated me, and more importantly what did not. In high school, you are somewhat fearless. I would have asked lots of questions to learn and grow. This is truly something I admire in our STEM students. They are willing to engage and ask questions of team members and leaders at all levels."