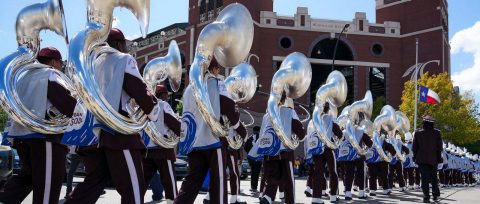 GM Financial Sponsors 2022 Arlington Football Showdown
In late September, GM Financial served as a Community Partner Sponsor for the 2022 Arlington Football Showdown, a three-day annual event that brings together two Historically Black Colleges and Universities (HBCUs) for a "classic" community and cultural experience.
This year's event on Saturday, Sept. 17, at Choctaw Stadium in Arlington, Texas, included a scholarship gala and a career and college fair and culminated with a rivalry football game between Texas Southern University and Southern University of the Southwestern Athletic Conference. In total, the event attracted nearly 17,000 attendees. 
GM Financial's support for the Arlington Showdown is part of the company's commitment to building and maintaining diverse talent pipelines and engaging students and alumni of HBCUs, and acts as a component of GM Financial's participation in the HBCU Partnership Challenge. Sponsorship of this year's event complements General Motors' ongoing commitment as the exclusive automotive sponsor for the Southwestern Athletic Conference.
The Friday college and career fair served as an important educational, access and networking opportunity for North Texas students. During the event, GM Financial team members hosted a financial wellness table and a financial literacy training session for students, allowing participants to learn more about the company and discover free financial resources via its KEYS® by GM Financial program.
"HBCU students and alumni are some of the most talented individuals in our community," said Dan Berce, President and CEO. "We're proud to have invested in the Arlington Showdown, which celebrated the HBCU experience and provided so many unique opportunities to engage with job candidates and other top talent we hope to attract and retain at GM Financial."
GM Financial and several co-sponsors also participated in a Thursday evening scholarship gala, during which scholarship funds were awarded to each school, as well as to other HBCUs across the U.S.
"Our primary focus for this event, beyond putting on a great athletic event, was to provide additional opportunities to create a festive atmosphere around two storied, distinguished HBCUs and to increase their reach," said Justin Tabor, Chief Operating Officer of Lone Star Sports Inc, which organized the Arlington Showdown.
"GM Financial's support and commitment to broadening financial literacy access was critical to our success."